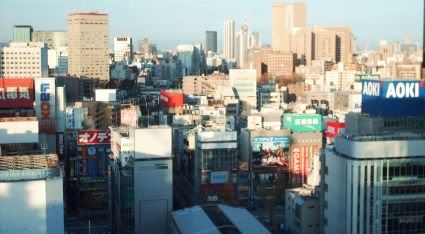 Akihabara from my hotel room at Remm Akihabara.
NEW YORK, December 30 –
2009 has been a crazy and bizarre year in the life of this blog and Asian-American pop culture. There were great moments and scary ones, but I made it without too many scars. I've flown nearly 30,000 miles and visited five different countries. I've eaten amazing food and met some very interest people in my travels.
I know a lot of people are doing year end lists of the "Best and Worst". These are some of the most interesting moments of Random Access Information Blog in 2009.
Surviving the Deployment
June 16 -- I can't really discuss the details, but I'm glad that it's over. It was one of the most bizarre cultural experiences in my life. I was living in the desert with fully loaded weapons and some survival Arabic. Somehow we all made it back. I will never forget playing spades early in the morning and the sandstorms that turned days into nights. I will not miss the desert, but I will miss the people that I served with… I will never forget them.
POST: Part I: Otaku War Journal: Did you find any Xilians today?
Giant Robot Family
June 21 -- Living in New York tends to harden people, but my visits to Los Angeles seem to provide a little balance. I always try to visit my extended Los Angeles family at least once a year. They are amazingly chill. I enjoy hang out with the entire crew. I love all of my friends and family on the west side.
POST: Giant Robot Magazine Headquarters: Pilgrimage or Loitering?


New York Asian Film Festival
June 25 -- I absolutely loved the New York Asian Film Festival. They played some of the best films from Korea, China, and Japan. I met some great directors and film makers as they promoted their latest movies. I can't wait until next year's festival.
POST: NYAFF09: Crushing and Blushing with Kong Hyo-Jin


Anime Week Atlanta
September 18 -- I don't go to many southern anime conventions, so I decided to head south. I flew down to Georgia to attend Anime Week Atlanta (AWA). It was quite a bizarre experience with crazy cosplayers, curtains falling on people, and Carl Gustav Horn holding court. It was quite a different experience than a northeastern anime convention, but still very cool.
POST: Anime Weekend Atlanta (AWA) 2009: Part 1: Anime Hell


New York Anime Festival
September 27 -- New York Anime Festival (NYAF), one of the biggest industry conventions for anime and manga, held its last stand-alone event. Reed Exhibitions plans to merge the NYAF with the New York Comic Con creating one large convention. This year's NYAF is the last time a major anime only convention will be held in New York City. I've loved hanging out with industry guests, fellow anime/manga reviewers, and friends.
POST: New York Anime Festival 2009: Pictures and Words


John Woo – Red Cliff Interview
October 15 -- During the New York premiere of Red Cliff, I had the opportunity to interview John Woo. I have been a huge fan of his movies like the Killer and A Better Tomorrow 2. He was extremely gracious and entertained all sorts of questions.
POST: John Woo's Battle of Red Cliff


P.K. 14 and Carsick Cars
November 20 -- The best of Chinese punk hits the streets of New York. I was complete blown away by the post-punk sounds of both bands, and the crowd was lit. I also ran into Giant Robot photographer Ben Clark. He was completely chill.
POST: Raw Chinese Punk at the Ding Dong


Pixies Thanksgiving
November 26 -- I didn't post about this, but it was completely awesome anyway. The Pixies played a 1 A.M. Thanksgiving show for their New York fans. It was completely awesome to hear the entire Doolittle album being played with some B-side tracks. As a long time Pixies fan, I was completely thrilled.


Hong Kong Cavalier
December 10 -- I spent nearly two weeks eating my way through the streets of Hong Kong and Macau. I was able to gorge on every type of Southern Chinese Cuisine with the help of my Hong Kong family. It was a nonstop buffet of dim sum, noodles, hot pots, buns, grilled meats, and street food.
POST: Dim Sum Delight


Tokyo Raider
December 22 -- This was my first opportunity to visit Japan. It was a very education affair because I didn't know the language or the city. It's was a stumbling expedition of districts, shops, and eateries. After three days, I began to truly know the city, the train system, the restaurants, and I even picked up some basic Japanese. I'm already making plans to visit next year during Winter Comiket.
POST: Akihabara@MIDNITE

Happy New Year! I hope next year will be just as exciting and bizarre as 2009.