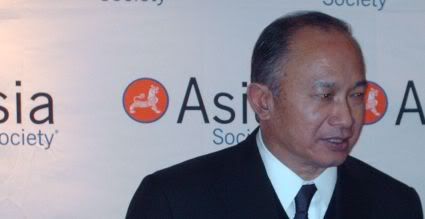 John Woo at the Asia Society's Screening of Red Cliff
NEW YORK, October 12 –
John Woo is one of the most influential directors in Asian cinema. Most audiences will recognize his highly stylized gun fights in Hong Kong films like
A Better Tomorrow (英雄本色)
,
Hard Boiled (辣手神探)
, and
The Killer (喋血双雄)
. After several years in Hollywood, Woo returned to China to direct an epic film appropriately named
Red Cliff (赤壁)
.
Red Cliff
is based on the historical
Battle of Red Cliff
set in the early part of the Three Kingdoms period in Chinese history.
James Leung: In your career, there have been phases. You started with Kung-fu films. Then you went into gangster action films and comedy. Red Cliff is an epic. Is this a start to a new era of epics?
John Woo: Yes, I think so… From now on, I want to make more epics, more interesting movies, and historical films.
JL: After seeing the full Asian cut of Red Cliff, I noticed that the film has a wide scope. Did you draw any inspiration from other films of the same scale and grandeur?
JW:
Seven Samurai (七人の侍)
and
Lawrence of Arabia
.
JL: Red Cliff is your first Asian film since Hard Boiled as a director. It's been over fifteen years. How has it changed working in Asia as a film director?
JW: I think that things have changed a lot. I must say that I had a great time working in China. It's so easy today. We have huge support from the government. They all want a very good movie…. You know. I don't need to take any advice from anyone. I just do my own work.
The movies are much bigger now. We could have a much bigger crew to do much bigger things. And the other thing is we have a long history of our culture. We have so many stories to do… so many stories to tell.
Another thing is that the market is much bigger now. Drawing bigger audiences that like to watch all kinds of movies, which means the government will be more open and really support me. There are also so many talented people in China. Their [artistic] vision is getting better and better.
Making movies in Hong Kong, there is not much in terms of location. Not many topics to do. All you could do is action. In China, you can try many more things.
Special thanks to the Asia Society for their assistance on this interview.