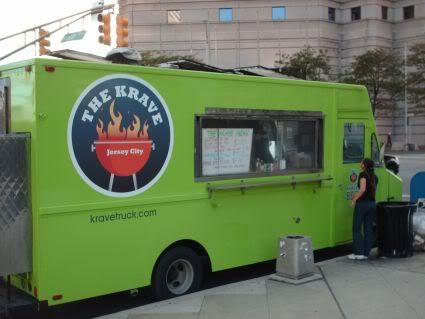 JERSEY CITY, October 7 –
Over the summer, there was a lot of buzz over a local Korean barbecue food truck. I looked into it and found the
Krave Truck
. It is a bright lime green truck that serves Korean inspired food in the downtown area.
The Krave Truck even has a website
with up to the minute updates. You might ask: "Why does a food truck need updates?" Due to local laws, truck vendors cannot be idle for more than forty minutes. Therefore, the updates help customers to find the truck. Lately, they have been setting up shop near the Grove Street train station.
I ventured into downtown Jersey City to find the green Korean monster. It wasn't difficult to spot. I strolled up to the truck and checked the menu to find only three items:
1. Taco with your choice of meat
2. Kimchidilla (Lots of Kimchi in a quesadilla)
3. Rice Platter with your choice of meat
It was a simple menu, and everything is served with
Kimchi
. Umm… The food is simply tasty Korean barbecue served in corn tortilla or soft taco wrap.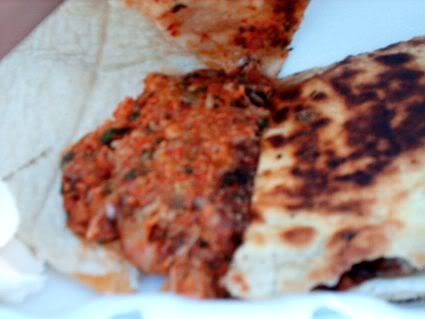 Kimchidilla with Kimchi and Sesame Chicken
The Krave Truck's barbecue creations have garnered a devoted following, and many downtown denizens buy dinner from the truck on a regular basis. If you're ever looking for a quick tasty Korean meal, look for the lime green truck in downtown Jersey City.
Related Links: