NEW YORK, October 16 –
Shonen Knife
, a veteran Japanese punk band, launched their US tour at the
Santos Party House
(96 Lafayette Street). They drew a sizable fanatical audience in the small venue and proceeded to deliver their special brand of punk rock music. It was great.
The band is a stripped down three member punk ensemble. There is nothing complicated. It's just loud garage punk music with sensible pop hooks. I describe their sound as 70s New York punk with a sweet pop candy coating.
Shonen Knife started with a couple of hard punk anthems which immediately got the audience hopping around like bunnies rabbits on speed. The crowd was electrified and frenetic. They were also familiar with the band's music and started screaming out song titles. This led
Naoko Yamano
, the lead singer, to remark that the New York crowd really knew their stuff.
The highlights of the performance were "Super Group", "Riding on the Rocket", and "Banana Chips". At one point, the band performed "Ramones Forever" as a dedication to the
Ramones
. It was totally cool.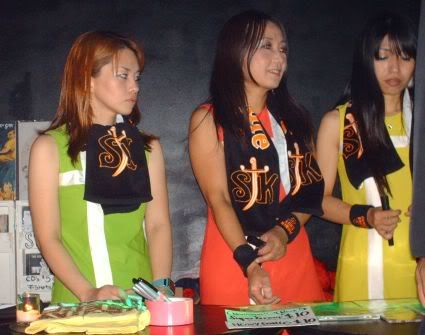 Shonen Knife meeting with fans
After their performance, Shonen Knife met with their fans. They spent nearly an hour signing merchandise, taking pictures, and talking to fans. It's no mystery that their fan friendly interactions have led to a very devoted and loyal fan base.
For more information on tour dates, you can check
their MySpace page
.
Related Links: