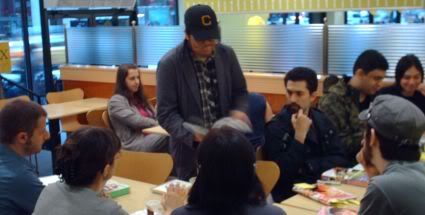 NEW YORK, June 24 –
This is the second event in a series of discussions hosted by
Ed Chavez
, Marketing Director for
Vertical, Inc
. The discussions are centered on specific manga-related topics. This particular manga discussion was about the Western influenced Japanese fashion trend known as
Yanki (ヤンキー)
.
Originally the venue for this event was
Kinokuniya
(1073 Avenue of the Americas). However, the host decided to move the event across the street to
Pax Wholesome Foods
(80 West 40th Street). As I entered Kinokuniya, I ran into Erin from
the Ninja Consultants Podcast
. She pointed me in the right direction. This lead to some confusion but everyone moved safety to the new venue without much trouble. I also saw Carl from
Ogiue Maniax blog
at the event.
Yanki is a term that originated in Osaka. It is best known for its projection of the "bad boy" or delinquent image. It's famous for borrowing fashion cues from American and western media and cues from movies like
Rebel Without a Cause
and
The Wild One
. Unlike the more
business suit clad Yakuza
; Yanki was more about urban fashion and street gangs.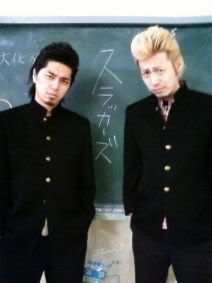 In the 70s, Yanki trends followed American rock-a-billy fashion and hair styles. Yanki trends changed over time with the corresponding changes in western fashion. The late 70s and 80s Yanki sported the Neo-Yanki heavy metal look. And more recently
Hiroshi Takahashi
, mangaka of
Crows (クローズ)
and
Worst (ワースト)
, introduced the hip hop (ヒップホップ) and American urban fashions to the Yanki trend.
Chavez discussed the influence of Yanki subculture and fashion in manga. The emergence of manga magazines such as
Young Magazine (ヤングマガジン)
and
Young King Magazine (ヤングキング)
helped to promote the Yanki image. They were anthology magazines catering to the Yanki audience.
According to Chavez, the Yanki subculture was not just a fashion trend. It was a state of mind. Yanki teens are supposed to have a thuggish mental toughness and attitude towards other people and their own life. Over the years, Yanki manga would incorporate the Yanki attitude into a wide variety of stories. Some include bizarre plots such as fishing, kerosene delivery, and horror.
The Yanki subculture can be seen in more popular manga titles such as
Cromartie High School (魁!!クロマティ高校)
and
Great Teacher Onizuka (グレート・ティーチャー・オニズカ)
.
Ed Chavez hosts Vertical Vednesdays biweekly. If you want to attend a Vertical Vednesday discussion, check
the Vertical, Inc Website
for dates and times.
Related Links: