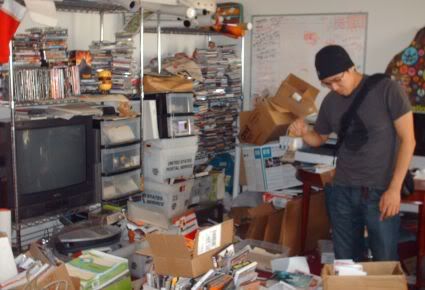 LOS ANGELES, June 21 —
After returning from a year long deployment to the Middle East, I returned home for a short stop. A couple of days later I was on a flight to
Los Angeles
. I went to visit family, attend family functions, and loiter around the
Giant Robot
Home Office (GRHQ). Before the deployment, I made yearly pilgrimages to Los Angeles. It was rudely interrupted by a war. Now, I was eager to restart that sacred tradition.
Martin Wong
, my good friend and co-editor of Giant Robot Magazine, picked me up at the airport.
We had lunch at
GR/Eats
, a restaurant tied to the Giant Robot brand. They serve delicious and creative Asian fusion dishes at great prices. He ordered me a drink called Green Tea Lemonade. It was simply a green tea mixed with lemonade. It tasted pretty refreshing. New favorite drink (non-alcoholic).
Neko Kika-ider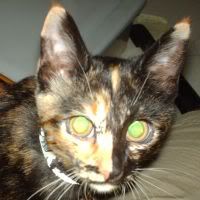 Most of my days in Los Angeles were spent loitering at GRHQ. On one particular day, I spent all day playing with
Eric Nakamura's
(co-editor of GR) kitten named Kika. The kitten was named after
Kikaider (人造人間キカイダ)
because of the calico pattern of the fur on its face. I had a lot of fun playing with the little kitty.
I hatched a daring plot to kidnap Kika from GRHQ. I had the cover of night as a distinct tactical advantage, but I was foiled by a reluctant wheelman (codename:
The Culinary Teacher
).
I almost forgot how much fun I have just hanging out in Los Angeles. Thanks to everyone at Giant Robot for letting me chill at their office!