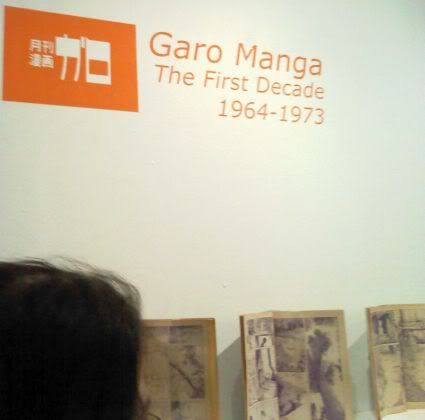 NEW YORK, April 14 —
The Center for Book Arts
held a gallery opening for an advent-garde manga magazine called
Garo (ガロ)
. Garo is famous for launching the careers of many famous mangaka such as
Yoshihiro Tatsumi (辰巳 ヨシヒロ)
,
Sanpei Shirato (白土 三平)
, and
Ryoichi Ikegami (池上 遼一)
. It also influenced modern storytelling in Japanese comics with titles that took a more mature approach to sequential art. Some manga readers claim that it paved the way for genres like
Seinen manga (青年漫画)
and
Gekiga (劇画)
.
Garo started in 1964 as a small indie manga magazine. Katsuichi Nagai, the founder of the magazine, wanted to create an advent-garde publication that focused on progressive and experimental modes of storytelling. Unlike other manga anthology magazines, Garo was never categorized under a particular genre. Rather the magazine went through many different periods as it grew and changed.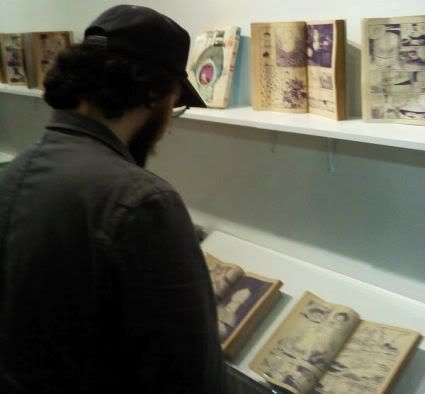 The exhibition was held in a very small gallery space which filled up pretty quickly. Moreover, I was surprised that parents brought their young children to the gallery opening, because some of Garo's content is extremely violent and sexual in nature. I can only assume that the parents equated comics with kid safe. This is obviously not the case. There were some extremely violent and pornographic manga panels on display. For instance, one Garo spread featured a talking phallus. This is definitely not for toddlers.
Talking Phallus
Most of the magazines were behind glass or displayed as an installation piece. I had to fight the urge to grab one and flip through it. It's an old tachiyomi (立ち読み) habit.
The first section of the exhibit was devoted to Sanpei Shirato's
The Legend of Kamui
which is probably their most widely read manga title. The Legend of Kamui is about a ninja who discovers the class struggle and discrimination of Edo period Japan. The historically based manga became a platform for the Shirato's leftist political ideology.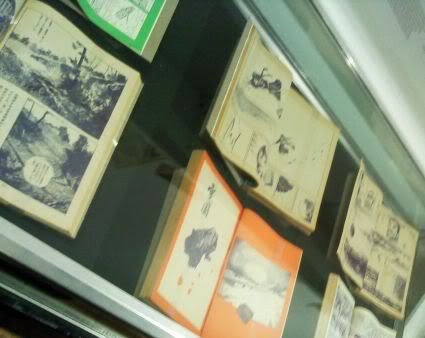 Ryoichi Ikegami display
Another interesting section was Ryoichi Ikegami section. It featured some of his early work before his amazing collaborations with
Kazuo Koike (小池一夫)
. It's interesting to see the early development of his hyper realistic art style.
Goseki Kojima (小島 剛夕)
, another Koike collaborator, also had a small section in the exhibit. He is renowned for his artwork in
Lone Wolf and Cub (子連れ狼)
.
Towards the back of the gallery, I found a small section devoted to Yoshihiro Tatsumi. Credited as the father of the gekiga movement, Tatsumi's section had some very racy material. Due to the amazing translation efforts at
Drawn and Quarterly
, I am very familiar with Tatsumi's violent and socially dissociative storytelling. However, one of his Garo spreads had some hardcore incestuous gay sex scenes. I was unaware that he published LGBT material. The artwork was very similar to current Bara manga.
Yoshihiro Tatsumi display
The exhibition showcased Garo's importance in the development of modern manga storytelling. Even though it was never as popular as other mainstream magazines, it managed to influence the entire industry and launched the careers of many notable mangaka.
Related Links: