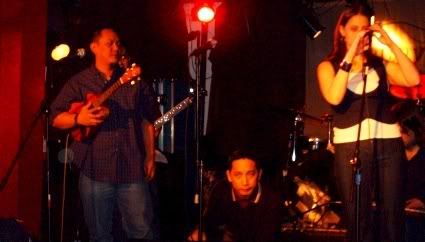 The Jack Lords at Kenny's Castaways
NEW YORK, January 25 —
It was a chilly night in New York City. All the New York pedestrians were dressed in long winter coats and sweaters. I crawled into a small bar with a chill in my system. I needed some hard liquor and good rock music in order to defrost my bones.
Kenny's Castaways
provided the Jack Daniels, and
The Jack Lords
delivered the rock music with extreme prejudice.
The Jack Lords played an amazing 45 minute set at Kenny's Castaways. Their unique blend of alternative rock and Hawaiian pop music filled the small bar and lounge.
This performance showcased a stripped down version of The Jack Lords. It was just six members; their full line-up usually consists of ten band members. However, the lack of numbers did not affect their bombastic sound. They still rock the stage with aggression. Micah and Sarah sounded particularly good during this performance.
Their fans also put in a good showing. The bar was filled. Seats were hard to find. J-Bomb and other members of
P.I.C
were also present to support their label mates.
The Jack Lords' set included "Rayd" and "High Winds" (my personal favorite).
Related Links: