Bill Poon
San Diego, July 23 –
The morning started with a surprise visit from
Bill Poon
who is the All-Star slugger from the
Giant Robot
softball team. He briefly chatted with
Eric Nakamura
(Publisher, Giant Robot) and others.
Second David Choe Signing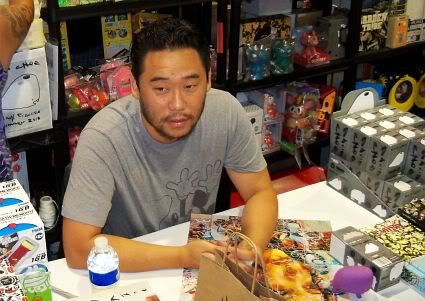 Dave Choe
Just before noon, fans of
David Choe
began forming a line around the booth. Choe, a Los Angeles pop artist, arrived to sign merchandise including his new
art book
and
Munko vinyl figures
. His devoted fans were pretty excited to meeting him. One of them even showed me her
Munko
tattoo on her wrist. It was pretty awesome.