Plushy Stand at the Giant Robot booth
San Diego, July 22 –
The
San Diego Convention Center
opened its doors for the first full day of
Comic-con International
. Standing behind the plushy
Totoro (トトロ)
dolls at the
Giant Robot
booth, I was prepared for the onslaught of attendees.
First David Choe Signing
Our first major event was a signing by
David Choe
. Choe has been a major artist and painter in the Los Angeles art scene for the last several years. His pop sensibilities and graffiti style artwork has garnered a huge following among both art collectors and street artists. It's a balancing act that keeps Choe's work on the cutting edge of the avant-garde.
Line for Dave Choe signing
Even before Choe's arrival, his fans were lining up for the event. They were eager to chat with the artist and get their stuff signed.
We were selling two new items from Choe's studio. One was an
art book
with his paintings, photos, and mixed-media collages. The book documents a small part of Choe's life and reveals some of his creative process. The second was his vinyl toy series called
Munko
.
Munko
is whale-like character created by Choe. It is very kawaii.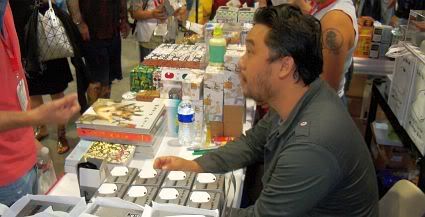 Dave Choe
Kaiju Connections
Towards the end of the Choe's signing, I snuck out of the booth for
August Ragone's
Gamera panel
.
Ragone, author of
Eiji Tsuburaya: Master of Monsters
, was a former writer for
Giant Robot Magazine
and an expert on
tokusatsu (特撮)
films. Despite having several mutual friends, we've never met.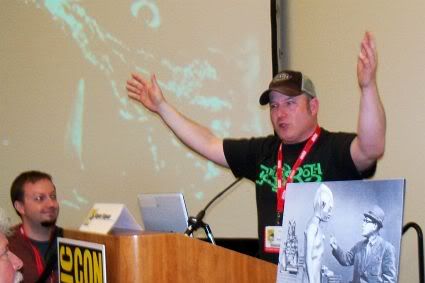 August Ragone Telling Big Kaiju Stories
When I was writing a
piece
about Japanese
kaiju (怪獣)
films, I was
facebooking
with
Paul Chapman (a.k.a the Gooberzilla).
He suggested that I contact Ragone about my article. Even though I was already well versed in kaiju films, it would have been beneficial to get input from an expert like Ragone. However, my short deadline prevented this from happening. Regretfully I finished the piece without contacting him.
When I saw his panel on the schedule, I decided to finally meet the tokusatsu expert. Ragone presided over a packed room of con-goers. I was amazed.
Gamera (ガメラ)
is a very niche subject, so the huge turnout was a pleasant surprise.
After the panel ended, I joined Ragone and a couple of attendees in the hallway. We had a lengthy discussion about kaiju films, convention war stories, and Ragone's various upcoming projects. I invited him to stop by our booth during the convention.
Manga Crossroads
As I made my way back to the exhibition hall, I spotted
Moto Hagio (萩尾 望都)
signing books at the
Fantagraphics
booth. Her signing table was adjacent to our booth, and there wasn't a line. I was lucky. I wanted to get a signed copy of Moto's new manga for a friend.
Manga Crossroads at Section 1700 of the Exhibition Hall
Hagio is one of the founding mothers of modern shojo manga and a member of the Year 24 Group. She was promoting her new manga called
A Drunken Dream and Other Stories
.
After the Moto signing, I bumped right into
Deb Aoki
who is the
Manga Editor of About.com
. Aoki is one of the most knowledgeable manga journalists in North America. She continues to write and edit the highly popular
Manga Section of About.com
. I initially met her at a previous anime convention [
NYAF 2009
]. She's super cool.
Aoki was flanked by Ryan Holmberg (curator for the Garo Exhibition) and
Mari Morimoto
(manga translator). I've met both Holmberg and Morimoto separately from other manga-related events [
Kondoh Akino Q&A
and
Queer Manga at NYU
]. I politely greeted each of them and headed back to the Giant Robot booth.
It's pretty crazy to meet three people together from different parts of your past. It feels like time and space are collapsing at the
San Diego Convention Center
. Maybe, I shouldn't be so surprised since they all work in the same field. Eh… go figure.
I quickly made my way back to the plushy stand and aggressively sold more fluffy toys.
In the afternoon,
Ed Chavez
of
Vertical Inc
and manga-ka
Felipe Smith
came by the Giant Robot booth. Ed, a good friend, introduced Felipe Smith to me. Felipe seemed like a very down to earth fellow. We talked about the US English release of his
Peepo-Choo
book and his upcoming manga projects.
Deb Aoki also stopped by the booth.
Other notable visitors to the Giant Robot booth:
Hope Larson
(Gray Horses) and
Brian Lee O'Malley
(Scott Pilgrim),
Yoshihiro Nishimura
(director/special effects),
Marc Walkow
(Subway Cinema/Sushi Typhoon),
Brian Ralph
(Reggie 12), and
Gary Gabisan
(P.I.C).
Giant Robot crew gets to chill at the end of the day. Right to Left: Monique, Michelle, Joshua, Eric Nakamura, Brandon, Oscar, and Martin Wong
At the end of the day, I joined other anime and manga types at a karaoke bar in the Gaslamp district. The night consisted of bad pop songs, cheap booze, and intense discussions about manga.
Related Links: