Left to Right: Donut Man and Chi (his niece)
Los Angeles, July 20 –
Since
my last trip to California
, I've been fiending for some sugary
Donut Man
confections. The tasty glazed and cream filled pastries have been haunting my foodie dreams, and I definitely needed to visit the Donut Man.
Martin Wong
(Editor of
Giant Robot Magazine
) and I trekked out to a humble little shack in Glendora which is the home of the Donut Man. Hoping to see sweet Boston Creams and glazed Tiger Tails, we accidentally stumbled onto a greater sighting. We met the DONUT MAN! The elusive and talented genius behind the Donut Man confections came out from behind the shack and greeted us with a smile. We talked, and he introduced us to his niece Chi. She was very cool.
After we pumped pure sugar into our veins, we went to pick up some new vinyl toys from a warehouse. We quickly packed the van with boxes of
Dave Choe's
new
Munko
vinyl figures and the Giant Robot action figures. Destined for our booth at the
San Diego Comic-Con
, we load the van and filled every inch of space. I was surprised at the number of boxes that we could shove into our van.
The next day was preview night at the
San Diego Convention Center
. After a two hour drive from Los Angeles, we joined the other members of the Giant Robot team for booth set-up. It was a slow process of hanging banners and folding t-shirts.
Just before the doors opened to the public,
Brian Lee O'Malley
(featured in Giant Robot Issue 66) came by the booth to greet us and bought some Giant Robot gear. He was very cool.
When the convention center opened to the public, a rush of attendees bombarded the exhibitor hall. Many of them were looking for the Comi-con exclusive items and free promotional give-aways. Some were collectors, and others were probably
E-bay
resellers looking to make a profit.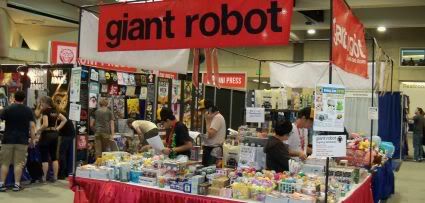 Posted at the plushy toy section of the Giant Robot booth, I spent most of the convention pushing ultra cute stuffed animals on girls with clueless boyfriends and children of unsuspecting parents.
Related Links: