The Rule: No Shirt, No Shoes, No Nara.
New York, August 25 –
Yoshitomo Nara (奈良 美智)
held a five day open studio for the reconstruction of his large-scale installation
Home
. It was a jointly sponsored event by the
Park Avenue Armory
and the
Asia Society Museum
. The reconstruction site was located at the Wade Thompson Drill Hall of the Park Avenue Armory.
The armory was being heavily renovated, and the guests had to have to follow strict rules. The first requirement was a dress code. Everyone had to wear closed toe shoes and sleeved shirts. The construction site also issued hard hats to guests, and they had to be worn. This is clearly a safety guideline. The second rule was no photography.
No photography?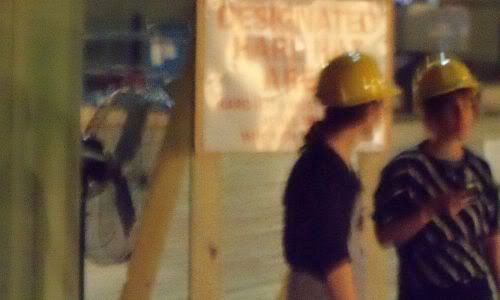 Guests with Hard Hats.
When I saw the "no photography" sign at the entrance of the drill hall, I asked one of the staffers about it. He said, "There is no photography inside." For the sake of clarification,
I also asked about the photography policy in the outer foyer area near the front door.
He replied that, "It's okay out here."