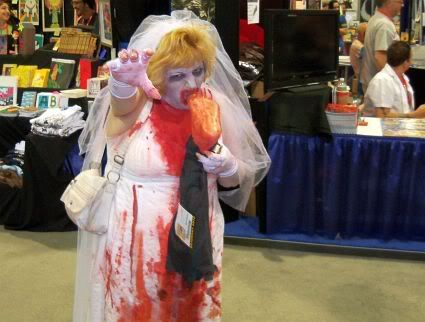 San Diego, July 24 –
I always assumed that con survival guides were weak veiled attempts at comedy. Come on… Do you really need someone to remind you of basic human functions like hygiene, hydration, and eating? It's basic common sense.
Even mindless Sims sprites know when to use the bathroom
.
Then, the unthinkable happened. There was geek-on-geek violence in Hall H of the
San Diego Comic-con
. Stationed at the plushy table of the
Giant Robot
booth, I watched two squads of local police quickly marching across the
convention center
.
I've read quite a few con survival how to's, and I don't recall any lessons on self-defense (the
zombie apocalypse ones
don't count). I guess it's time to add some
basic self-defense tips
to those guides.
There were many rumors circulating in the exhibitor's hall. The initial story described a confrontation ending in an attendee stabbing another one with a replica light saber (the geek's
weapon of choice
). It's perhaps the geekiest personal assault in history. When I read the actual news coverage, the victim was stabbed by a pen near his eye. He went to the hospital with minor cuts.
Uglydolls Signing
Right to Left: Dave Horvath and Sun-Min Kim
As soon as the exhibition hall was opened to attendees, fans of the
Uglydolls
began circling our booth. They were eagerly anticipating the signing which was our last scheduled event of the convention. Around 10:30 AM, the free roaming Uglydolls fans began to form a line.
David Horvath and Sun-Min Kim, creators of the Uglydolls, rushed over to the booth with great haste. They were carrying a box of exclusive vinyl toys. I'm surprised that rabid toy collectors didn't mob them for it. The husband and wife team enjoyed meeting their many devoted fans and signing exclusive vinyl figures.
Filipino Rockers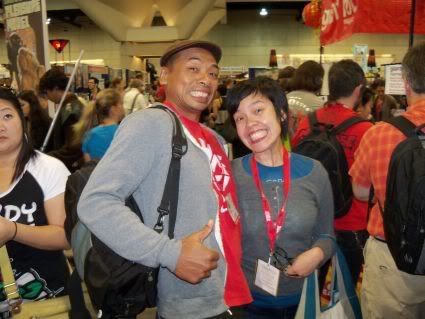 Right to Left: Christine Balance and Gary Gabisan
I received a surprising visit from two Filipino-American indie rockers. Christine Balance and Gary Gabisan stopped by the booth and bought some GR gear. Christine is a vocalist for the
Jack Lords Orchestra
, and Gary is a member of
P.I.C
.
Sushi Typhoon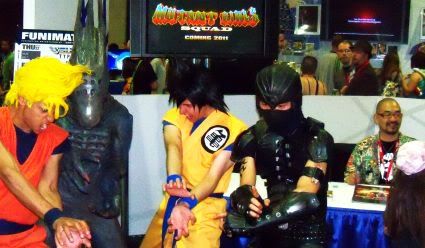 Right to Left: Yoshihiro Nishimura, Masanori Mimoto, and cosplayers
Cate Park
(Giant Robot) and I had a chance to roam around the exhibition floor. We ran into familiar faces at the
Funimation
booth. The crew from
Sushi Typhoon
was doing a promotional event. We had a chance to hang out with
Yoshihiro Nishimura (西村喜廣)
(director/special effects),
Marc Walkow
(Subway Cinema/Sushi Typhoon Overseas Marketing),
Yoshinori Chiba
(producer),
Masanori Mimoto (三元雅芸)
(actor), and the alien from
Alien Versus Ninja
.
British Invasion
Sean Michael Wilson
I found out that
Jonathan Ross
, British talk show host, was at the convention and asked him to stop by the booth. It was pretty awesome to meet him in person. He was very cool cat. I also had the opportunity to meet
Sean Michael Wilson
who edited the
Ax (Vol 1): A Collection of Alternative Manga
. He's currently living and working in Tokyo.
Right to Left: Matt Groening and Oscar
Other notable visitors to the Giant Robot booth:
Matt Groening
(Simpsons),
Hope Larson
(Gray Horses) and
Brian Lee O'Malley
(Scott Pilgrim),
Ed Chavez
, and
Brian Ralph
(Reggie 12).
Pop Candy After-party
I skipped out of the convention early to attend
Whitney Matheson's
Pop Candy party. Whitney is
USA Today's
pop culture columnist and has appeared on various pop culture television shows on
VH1
,
E!
, and
G4TV
. I follow her blog religiously.
The party was a mixture of cheap drinks, board games, and 3-D posters. I also witnessed several pretty
epic games of Jenga
.
In addition, I had the pleasure of meeting other pop candy readers. One of the most interesting personalities at party was
Raging Demons (RD)
(obviously a screen name). He is a blogger at
NoDQ.com
website which focuses on professional wrestling. I also met a
Batman
cosplayer with a can of chili on his utility belt. He was pretty hilarious.
Batman cosplayer's utility belt
BORIS!!!
After the Pop Candy Party, I joined
Martin Wong
(Giant Robot Editor) to see the Japanese metal band
Boris
. They were rocking out at a legendary San Diego bar called the
Casbah
. Their thrashing guitars and rocking percussion filled the tiny venue with a strange sonic alchemy. The entire band was effing metal, and the highlights were Atsuo drumming and Wata guitar work.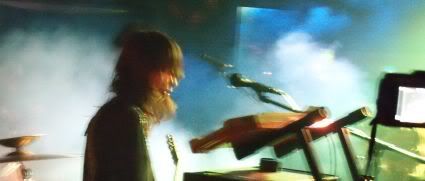 Related Links: