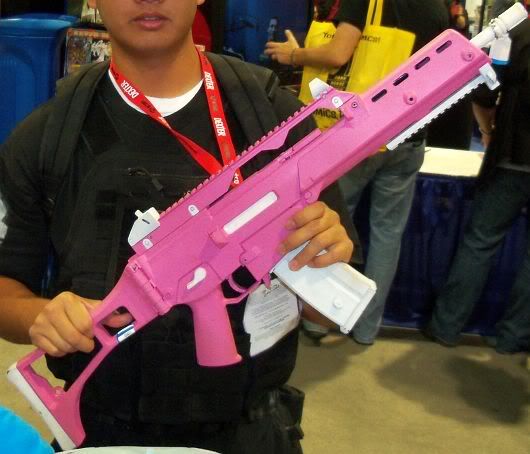 Pink Hello Kitty Assault Rifle with folding Stock
San Diego, July 25 –
After four days of
convention madness
, the weariness began to show on the faces of the exhibitors and guests. I could see it in their eyes.
They had the thousand yard stare.
We braced ourselves for the final day of total geekery. Some poor souls had to buy overpriced coffee from the Starbucks stand. Others just toughed it out without caffeine.
Go forth, brave soldiers of love.
Comics and Piracy Panel
Right to Left: Jake T. Forbes, Deb Aoki, and David Steinberger
The Digital Piracy Panel
was one of the few panels that I actually attended. They covered most of the major arguments concerning comic books and intellectual property rights. The discussion was very timely due to the recent anti-piracy efforts of many American manga publishers.
The panelists included Douglas Wolk (Critic for
Techland
), Jake T. Forbes (Manga Editor and Author of
Return to Labryinth
), David Steinberger (CEO of
comiXology
), and Deb Aoki (
Manga Editor for About.com
).
If you want to read a transcript of the panel, you can
find it here
.
Dueling Mangaka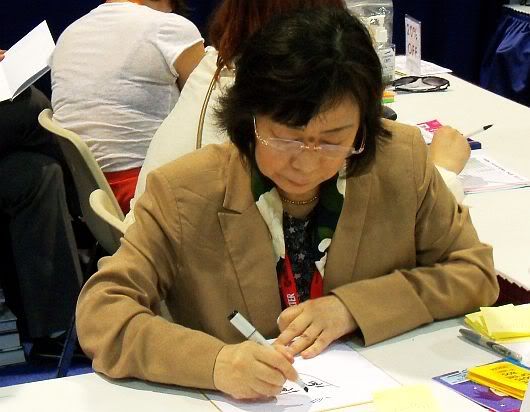 Right to Left: Moto Hagio and Yoshitaka Amano
I don't think it was intentional, but two famous manga-ka were holding signing events at the same time.
Moto Hagio (萩尾 望都)
was signing copies of
A Drunken Dream and Other Stories
, and
Yoshitaka Amano (天野 喜孝)
was signing copies of
Shinjuku
. This effectively split the manga otaku into two separate groups. It was an interesting dilemma. I did the
King Solomon thing
and to split my time between the two events. I spend only thirty minutes at Hagio's booth and thirty minutes at Amano's booth.
Monster Lunch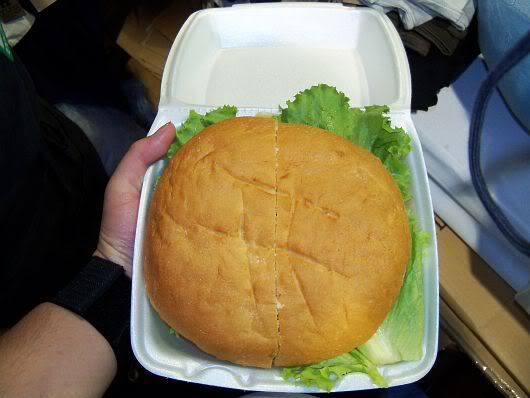 Cate was nice enough to pick up our lunches. However, the sandwiches were friggin' monstrous.
I didn't know whether to be frighten or hungry
. The bun was literally bigger than an X-Box.
Breaking Down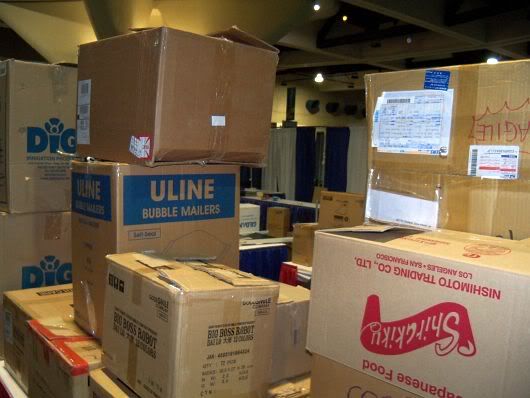 The last day of
San Diego Comic-Con
was filled with ambiguous feelings of relief and sadness. I was pretty tired at this point and didn't want to work another day. At the same time, I was going to miss
hanging out and meeting some of the coolest people
.
As the exhibitors were breaking down their booths, the convention administration began closing the lights. The entire exhibition hall quickly went from a colorful wonderland to a
ghost town
. The carpet was rolled up and stacks of cardboard boxes were awaiting transportation.
After Con Dinner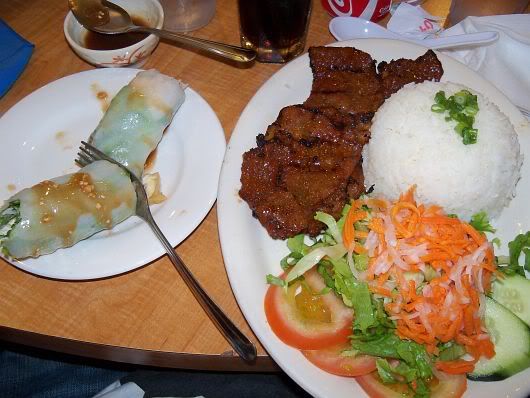 After breaking down the booth, the
Giant Robot
crew went to a local Vietnamese restaurant for dinner. It was a nice ending to an amazing week in San Diego. I enjoyed working alongside
the awesome Giant Robot folks
.
Related Links: