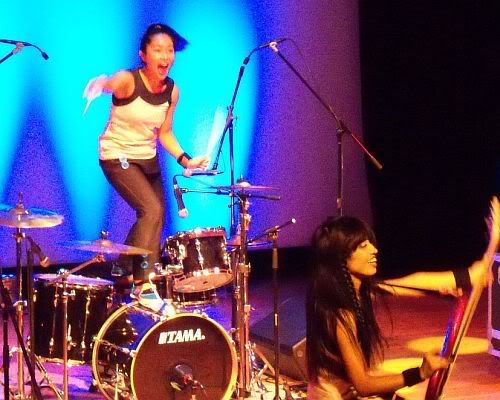 Emi Morimoto standing on her drums and Ritsuko Taneda rocking out.
New York, September 25 –
As a part of their extravagant
Yoshitomo Nara (奈良 美智) exhibition
,
Asia Society
hosted a concert by
Shonen Knife (少年ナイフ)
. Nara is a big fan of the band and designed some of their album covers including
Happy Hour
. In a larger sense, he has also credited punk music as being a major influence in his artwork.
In addition to the art exhibit, the performance was part of a new American tour that served as a coming out party for Shonen Knife's new drummer Emi Morimoto. She seemed to fit the band extremely well. Her drumming was exciting and filled with gusto.