Digital Comics & Distribution. Seated (Left to Right): Ira Rubenstein (Marvel), David Steinberger (Comixology), Jim Lee (DC), and Micah Baldwin (Graphic.ly).
New York, October 9 –
Lately much of the news from many comic book publishers are focused on their huge push into digital distribution. Due to the portability and high resolution of print, the publishing industry enjoyed a brief respite from the onslaught of digitization and piracy of their media. However, the proliferation of piracy on file sharing torrent networks and dropping revenues from unit sales have forced publishers to adopt a more aggressive approach towards digital distribution.
The panel included: Ira Rubenstein (
Marvel's
), David Steinberger (
comiXology
), Jim Lee (
DC Comics
), and Micah Baldwin (
Graphic.ly
)
The Good, The Bad, and The Geeky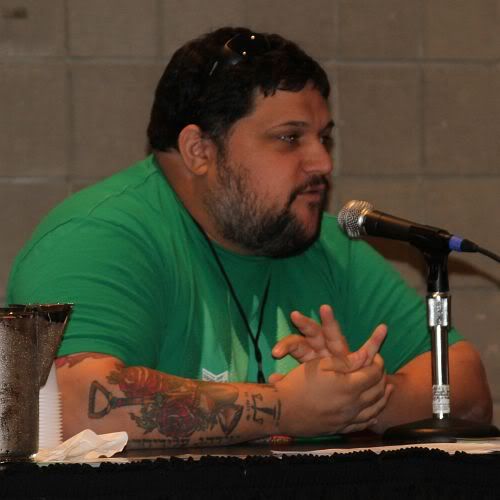 Micah Baldwin (Graphic.ly)
The panel addressed the advantages and disadvantages involved with digital distribution of comics.
Micah Baldwin, Chief Community Caretaker at
Graphic.ly
, argues that the digital age of comics will enhance the comic book experience. He said that technology should not be limiting factor, and it should follow the imagination of the creators. He discussed enhancements like
motion comics (animated panels)
and hyperlink zooming features.
David Steinberger, CEO of
comiXology
, agreed with Baldwin's assessment on the storytelling potential of digital media. However, he argues that digital comics are still in its infancy. The technology is still experimental. Furthermore, the comic industry needs a standardized file format that works seamlessly across all platforms. There still isn't one.
Ira Rubenstein, Executive Vice President of
Marvel's
Global Digital Media Group, expressed a cautious optimism about digital comics. Rubenstein states that he supports advances in digital comic book storytelling, but projects like motion comics are not profitable ventures. In the context of overall revenue generated by comics publishers, Rubenstein states that digital content make up only a small percentage of the companies' income. Revenue is further hampered by the hefty 30% cut that the
Apple iTunes store
charges content providers. As a result, most comic book publishers see digital distribution as little more than a promotional tool for the hard copy sales.
Furthermore, Rubenstein talked about the protection of intellectual property (IP) and
Digital Rights Management (DRM)
. He cites examples from
Sony's
multi-million dollar attempts to use software encryption to protect their IP. Most of the security software was quickly hacked and circumvented by hackers within a few months of implementation. He said that hackers "have more time than money" and are technologically capable. Rubenstein believes that IP and DRM issues need to be addressed before digital comics can be a viable business.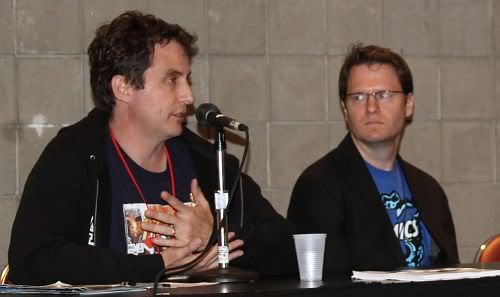 Left to Right: Ira Rubenstein (Marvel) and David Steinberger (Comixology).
As an artist, Jim Lee (Co-Publisher of
DC Comics
) was concerned about some of the image manipulation features of digital comics that might distort the work. For example, zooming into a small panel might create an undesirable moiré effect or blur fine lines. Lee expressed adamant opposition to any technological enhancements that weakens the creator's control of the visual experience.
In addition, Lee discussed the impact of digital comics on the storytelling aspects. He states that digital devices have shorten attention spans and created the demand for shorter stories. Using examples from his own life, Lee states that he has a short attention span in front of a computer because of e-mail and other programs. His attention span is even shorter on mobile devices like smart phones and tablets causing him to spend less time on content. This phenomenon will lead to shorter comics. Rather than the standard 22 page narrative, Lee argued that most digital comics will probably be shortened to around 18 pages.
Apple iTunes and Boobs
During the Question and Answer portion of the panel, the issue of censorship was raised by a con attendee. He cited several
reported instances of Apple iTune's censorship efforts. One of the more infamous cases involved a comic showing nude female breasts.
In his reply, Baldwin expressed an openness regarding content. Except for grossly objectionable content like child pornography or blatant racism, Graphic.ly will work with any creator or comic book property. He believes that creating "community driven standards" from the ground-up is the better approach to managing content.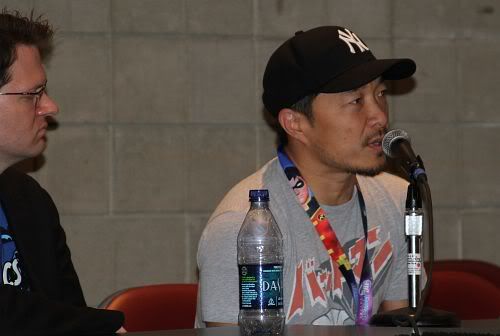 Left to Right: David Steinberger (Comixology) and Jim Lee (DC).
Steinberger added that the Apple iTunes store has been tweaking their censorship policies to accommodate the readers' taste. The overly aggressive censorship will be made more flexible and reasonable.
Interestingly Lee ended the discussion by saying, "We will get beyond 'boobs are bad'."