Giant Robot Invades
New York, October 10 –
The last day at
New York Comic Con
was much calmer, and I saw more children in the crowd. My game plan for most of the day was booth duty. I spent most of the day answering questions and promoting
Giant Robot Magazine
.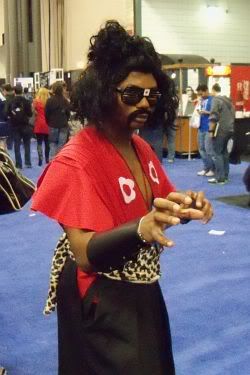 Sho'nuff visits the Giant Robot Booth
The booth had many different visitors. Most of the visitors to our booth were young artists looking to get involved with Giant Robot. I had long running conversations about
Superflat
, street graffiti, and the current art scene. I even ran into a few
David Choe
fans. They were hoping that Dave was going to be at the booth. Unfortunately I had to give them the bad news. On the other hand, younger booth visitors were looking for recommendation about everything. I was dispensing recommendations for anime, manga, Asian cinema, J-rock, and other related topics.
I also provided some reassurance to Giant Robot fans and readers. Many were concerned about the closing of the
Giant Robot New York Store
. I was sincerely grateful at the strong loyalty of GR readers. They were awesome.
The Last Panels Standing
After I finished manning the booth, I hastily made my way to some the late panels on the NYAF side.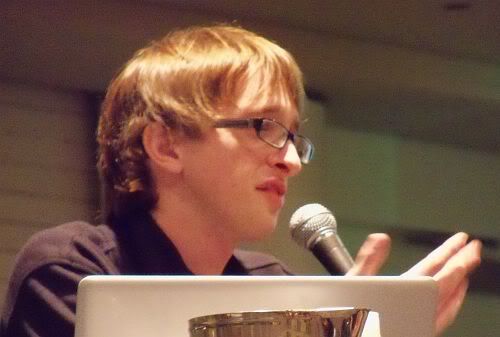 Evan Minto, Faces of Anime Panel
Evan Minto (
Ani Gamers
) conducted a interesting panel on character designs in Anime. His presentation had depth and insight on some of the significant characters designs from
Osamu Tezuka (手塚 治虫)
to
Moe (萌え)
. If you want to listen to the panel, check out
NYAF 2010 Panel Audio – The Changing Faces of Anime « Eeeper's Choice Podcast
.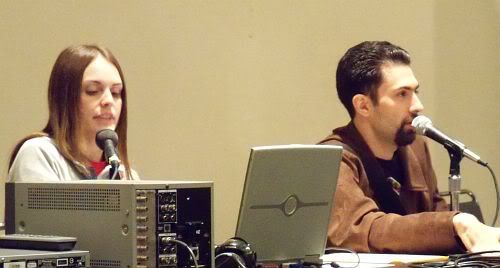 Kate and Alain, Anime Recruitment
At roughly the same time, Alain and Kate from
Reverse Thieves
hosted a panel on the introduction of anime to non-fans. Their panel was packed with a huge crowd. The give-and-take between the crowd and the panelists was lively especially the Q&A portion.