NEW YORK, February 13 —
On a wet and gloomy night, I attended the annual
Tibet House
Benefit Concert at
Carnegie Hall
(West 57th Street and 7th Avenues). The concert benefits several charities such as
The Tibetan Community of New York and New Jersey
,
Batonga
, and
Farm Aid
.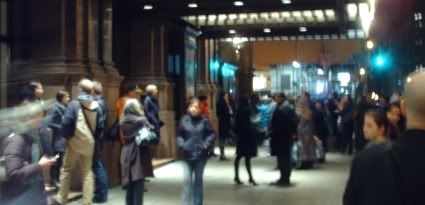 This year's concert was a little bit more somber than previous years. The absence of
Patti Smith
, a regular performer for the Tibet House Benefit, was apparent. In previous years, she brought the raw punk energy to the benefit. She did not play this year, and I missed her presence.
The performers included:
Philip Glass
,
Ray Davies
,
Band of Horses
,
Nawang Khechog
,
Ashley MacIsaac
,
Marisa Monte
,
Drepung Gomang Monks
, and others.
There were some good performances. The highlights included performances by Ashley MacIsaac, Nawang Khechog, and Ray Davies.
The first high point was delivered by a Canadian fiddler, Ashley MacIsaac. MacIsaac's performance was filled with high energy. His instrumental music, a mixture of Irish folk and pop, was a hit with the crowd. His fiddling was very percussive, and it quickly energized the concert hall. As his tempo picked up, MacIsaac started a mean
Irish jig
, and the crowd went into a roar.
The next notable performance was given by Nawang Khechog. I've seen Khechog several times, and he never disappoints. He was exceptional tonight. On his second song, Khechog collaborated with the drummer to produce an amazing composition of percussion and horn. He played the Tibetan Ceremonial long horn with grace and mastery. He is a uniquely talented musician.
The benefit ended with a powerful set by Ray Davies, formerly of
the Kinks
. His set included hits like "Lola". Davies closed the benefit with "All the Day and All of the Night". As he rocked out, Carnegie Hall was electrified and the audience roared out of their seats. He rocked it hard, and the audience loved it.
Related Links: