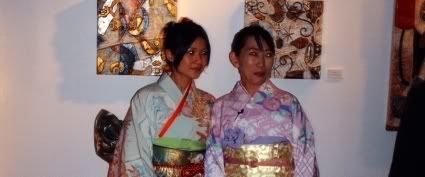 Sakoto (left) and Terumi Yamamoto (right)
NEW YORK, February 15 —
Sakoto
and
Terumi Yamamoto
, two amazing Japanese artists, held a joint exhibition at Harlem's
Tribal Spears
café lounge (2167 Frederick Douglass Blvd). The show was called "We Make Our Art Our Life, We Make Our Life Our Art". It consisted of individual works and combined collaborative pieces. All of the pieces were created in Japan, and they were shipped to New York on Tuesday. Yoko Myoi, a noted puppeteer and performance artist, was the curator of the exhibition.
"Memory" by Sakoto and Terumi Yamamoto
I met both artists at the gallery opening, and they were very polite. They did not speak English, and my Japanese is vulgar at best. Yoko politely translated for us, and I got acquainted with these extraordinary artists.
Relief Sculpture by Sakoto
Sakoto is a trained sculptor and ceramicist whose work was stunningly beautiful. Her pieces were ceramic relief sculptures with metallic and glazed highlights. The western influence in Sakoto's work was clearly evident. Her careful ornamentation can easily be compared to
Romanesque
relief sculptures from the beginning of the 10th century. However, the tone and touch of the artists seems uniquely Japanese. The careful line and the triangular compositions stem from a primarily East Asian culture.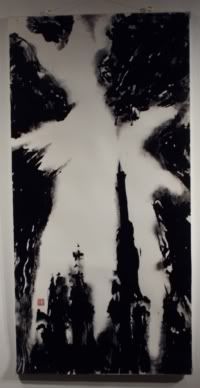 "In and Out" by Terumi Yamamoto
Terumi Yamamoto is an avant-garde calligrapher. Her work was very close to 1960s
Minimalist
painting in spirit and form. Her brush stroke had the elements of Chinese/Japanese calligraphy, but her forms were not restricted to traditional
Kanji
. She utilized large sweeping organic shapes, and the simple black and white composition was striking. Yamamoto used contrast and space like
Jasper Johns
. I found her work to be absolutely amazing.
During the gallery opening, there were several performances. There was live music and a puppet show. However, the real treat of the evening was Yamamoto's live performance of her calligraphy. She had paper and ink set-up on the floor of the gallery, and she took requests for Kanji. The audience shouted requests, and Yamamoto painted live pieces of calligraphy. For many artists, their creative process is very personal and intimate. It was brave of Yamamoto to share her process with the audience, and I was honored to be apart of it.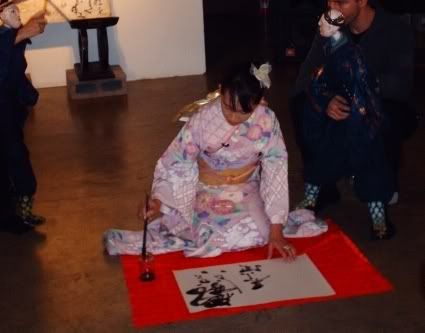 Terumi Yamamoto performing live calligraphy
It was a great evening with amazingly creative people. Sakoto and Yamamoto had a successful gallery opening. Yoko Myoi did an amazing job with the gallery show.
Related Links: