Bill Poon
San Diego, July 23 –
The morning started with a surprise visit from
Bill Poon
who is the All-Star slugger from the
Giant Robot
softball team. He briefly chatted with
Eric Nakamura
(Publisher, Giant Robot) and others.
Second David Choe Signing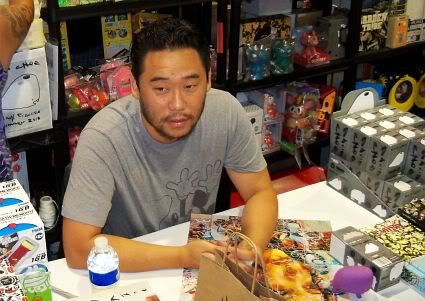 Dave Choe
Just before noon, fans of
David Choe
began forming a line around the booth. Choe, a Los Angeles pop artist, arrived to sign merchandise including his new
art book
and
Munko vinyl figures
. His devoted fans were pretty excited to meeting him. One of them even showed me her
Munko
tattoo on her wrist. It was pretty awesome.
Vertical Inc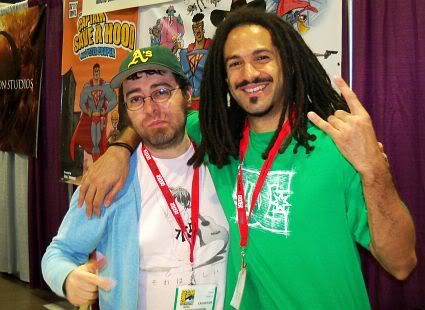 Ed Chavez and Felipe Smith
I took a few minutes to visit the
Vertical
Booth and found Mister
Ed Chavez
at the helm. Apparently both volumes of
Chi's Sweet Home
were big sellers. Despite having two shipments delivered to the convention, he sold most of them with only four copies remaining. Chi is irresistible.
Moto Hagio Redux
As the day progressed, I received a text message on my cell phone. It was a twitter direct message from a friend in Florida. He read my tweets about yesterday's
Moto Hagio (萩尾 望都)
signing and wanted a signed copy of
A Drunken Dream and Other Stories
as well.
Moto Hagio
Again, I made the trek over to the
Fantagraphics
booth for Hagio's second signing. I spotted a small line of people and queued up. For a brief moment, I was staring off into the distance and zoning out.
Suddenly, I noticed that I was surrounded by several people from the manga industry.
Dallas Middaugh
, Associate Publisher of
Del Rey Manga
, was standing in front of me.
Jonathan Tarbox
, manga editor, was behind me. Other notable people were
Mari Morimoto
(manga translator) and Paul Tuttle Starr (prose translator). While I was waiting, I started conversations with both Morimoto and Tarbox. We briefly discussed the state of the manga industry and recent developments in publishing.
Hagio's signings seem to attract a lot of anime and manga industry people. I hope this translates into big sales when the book hits the stores.
Mizuno Junko
Mizuno Junko
, female mangaka and designer, was scheduled for four signings at the
Last Gasp
booth. She was pushing her latest book called
Little Fluffy Gigolo Pelu
.
When I heard about her appearances, I wanted to stop by Mizuno's booth and catch up with her. It's been nearly
three years since we last met
. We had a lengthy discussion about changes in her life and her artistic career. She also talked about upcoming projects.
Jeffrey Brown
Martin Wong
, Giant Robot Editor, introduced me to
Jeffrey Brown
. Brown is the genius behind many critically-acclaimed comic books like
Clumsy
and
I am Going to be Small
. We looked through some of Brown's custom trading cards as he explained the inspiration for each one. They were pretty hilarious, and he was very chill.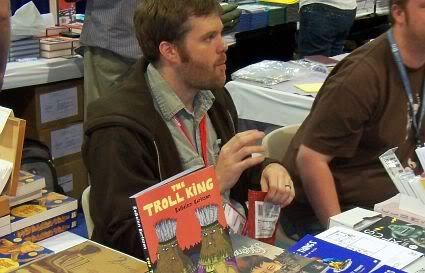 Jeff Brown
Other notable visitors to the Giant Robot booth:
Grace Park
(Battlestar Galactica),
Daniel Dae Kim
(Lost),
Joe Hahn
(Linkin Park),
James Jean
(artist),
Saelee Oh
(Multi-media Artist),
Hope Larson
(Gray Horses) and
Brian Lee O'Malley
(Scott Pilgrim).
Related Links: