Happyfunsmile at Forbidden City
NEW YORK, October 31 —
I celebrated Halloween at the
Forbidden City Lounge
. However, it took me almost forty-five minutes to fight my way through the New York City Halloween parade.
If you never experienced the New York Halloween Parade, it is another world. Basically, it's a huge outdoor cosplay party with millions of people. The parade stretches across a good portion of Sixth Avenue. It's so big that it usually spills over to Fifth Avenue and Seventh Avenue.
The pedestrian traffic was really brutal. I was tiptoeing through the crowd. I had to push and elbow my way out of the parade. My limited Jiu-jitsu skills became very useful in the crowd of cosplayers. I was lucky to get over to Forbidden City.
I did come across one girl who was dressed as Pris from
Blade Runner
. She had one large band of black eye shadow. She also had the teased out blonde hair. I didn't get a picture of it. I was too busy fighting my way through the crowd. Damn, I should have tried to get a photo of her. Ohh… well.
Happyfunsmile
, a local Okinawan pop band, played a special Halloween show in front of the Forbidden City bar. The space was really tight, but they managed to rock the house. This was my second time watching them perform. They were great.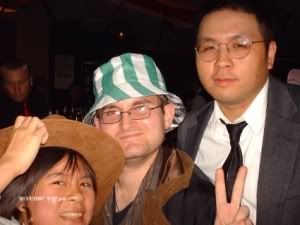 Peter Tatara, his girlfriend, and me.
I also had the chance to drink with Peter Tatara and his girlfriend. He was cosplaying as
Urahara
from
Bleach
. Peter is the Programming Manager for the
New York Anime Festival
. He recently got
Patrick Macias
as a guest for the festival, which is pretty awesome. New York City anime fans will get to meet the man behind
OtakuUSA
.
We had a few drinks and enjoyed the music of Happyfunsmile. Overall, it was a very cool night.