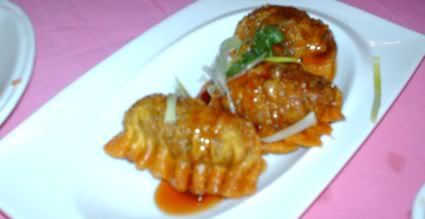 Deep Fried Wontons
HONG KONG, December 12 –
I'm planning to spend the rest of the month hanging out in Hong Kong and Tokyo, and my agenda is going to be a mixture of pop culture immersion and eating. You know… all
Anthony Bourdain
style. Marching across the globe in search of food and bizarre cultural oddities.
My first culinary stop is
Ho Choi Restaurant
. Located on
Kowloon Bay
, it serves up a spectacular view and an interesting
Dim Sum
menu. The prices are reasonable, and the dishes are inventive. Of course, they have all the standard Dim Sum dishes like Shrimp Dumpling (蝦餃 har gau), Shaomai (燒賣 siu mai), and Rice noodle rolls (腸粉 cheong fun). But the reason you go to Ho Choi is the more experimental dishes.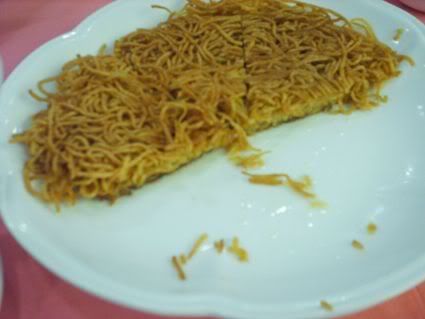 Fried Noodle served with vinegar and sugar. It's crunchy on the outside and soft and chewy on the inside. The dish is both greasy and delicious. (
The good kind of greasy.
)
Japanese inspired Egg-Rolls with a light creamy filling. The filling has hints of
wasabi
which gives the egg roll a little punch.
Fish Cake and Herbs wrapped in a thin rice paper (similar to a
Vietnamese Summer Rolls
). The filling is ground fish cake with a mixture of Chinese herbs. It's a light tasty morsel.