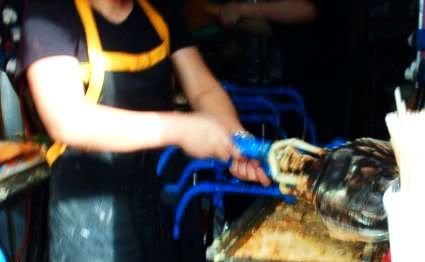 The Best Mini Egg Puff Vendor in the Tsim Sha Tsui district
HONG KONG, December 22 –
Busy Hong Kong pedestrians are known for their love of street food, and thousands of tiny street vendors are ready to serve them quick and tasty treats. Here are some of my favorite Hong Kong street foods:
Bok Choy Cookie
The Bok Choy Cookie is a light waffle cookie that is wrapped in a thin sheet of rice paper. It's a very sweet candy-like treat and is extremely light. If you have a sweet tooth, you must try one. They are sold along the boardwalk in the Stanley District of the city.


Stinky Tofu
The most infamous Asian street food is probably one of the most delicious in Hong Kong. Known for its disguising smell, Stinky Tofu is simply a fried fermented piece of tofu. The smell is the result of the tofu's fermentation process but don't let that discourage you. It's a delicious little snack and taste better than it smells. Stinky Tofu is sold in many locations, but I prefer the Stinky Tofu vendors in the Mong Kok district.


Mini Egg Puffs
Mini Egg Puffs are the most popular street food in all of Hong Kong and are enjoyed by millions of people. The puffs are made from sweet pancake batter and are cooked in a griddle iron much like a waffle. The tasty little puffs can be found on every major Hong Kong thoroughfare, but the best are sold by the vendor located on the corner of Hillwood Road and Nathan Road in the Tsim Sha Tsui district. You can't miss it because there is always a crowd of hungry people waiting to order.