Shanghai style Water Dumplings
HONG KONG, December 15 –
Hau Fook Street is known as a haven of small boutique eateries. Each establishment has their own unique set of tasty specialty dishes, which cater to almost any palette. A dedicated food tourist could spend weeks sampling each of these unique establishments. I went there in search of a late breakfast and found some interesting dishes.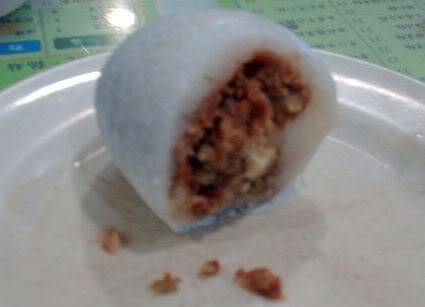 Sticky Rice Balls are pretty famous for their Gestalt combination of flavors. They resemble small loafs of rice rather than balls, and they are filled with preserved pork lard, Chinese sugar bread, and preserved salted Chinese cabbage.
Thick Soy Porridge is a local favorite. It's very sweet and is served either warm or cold according to the customer's preference.
Shanghai style Dumplings. It's a hardy helping of wonton-like water dumplings prepared in a tasty broth. It's a prefect dish to start a busy Hong Kong day. (See above)