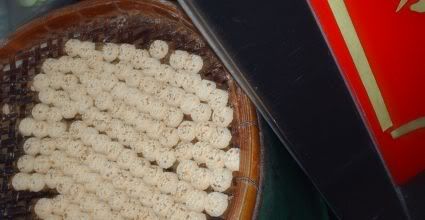 Chinese Almond Cookies
MACAU, December 15 –
If you can get away from the fancy resorts and mega casinos, you can find a lot of great local food in the old sections of the city. The best part: it's free.
In Taipa Village, there are literally thousands of tiny shops, eateries, restaurants, and bakeries. Most of these establishments entice customers by offering free samples. There is no commitment to buy, and you can try everything in the store. Just politely point at the food that you want to try, and the clerk will give you a piece.
On the streets of Macau, you can find some of the following tasty foods:
Portuguese Egg Custards, Koi Kei Bakery
Variety of Sweet Barbecue Jerky, Koi Kei Bakery
Phoenix Egg Roll with Dry Roasted Seaweed, Choi Heong Yuen Bakery
During the busy afternoon rush hour, Macau shop clerks will literally be shoving food into the mouths of pedestrians. If you circle around these generous shops several times and graze, you can fill up on some good local food without spending a single penny. There are plenty of shops and millions of pedestrians.