NEW YORK, September 27 –
Here are a some of my impressions from this year's
New York Anime Festival (NYAF)
.
Ed Chavez at the Vertical Inc. booth
As soon as I got to the convention floor, I immediately went to the dealer's booths to check out the deals. I ran into
Erica Friedman
, President of
Yuricon & ALC Publishing
. She was helping out the guys at the
Media Blaster's
booth selling DVDs. I also found Ed Chavez, Marketing Director for
Vertical Inc
, working in the Vertical booth. There seemed to be a positive buzz and a lot of traffic around his booth.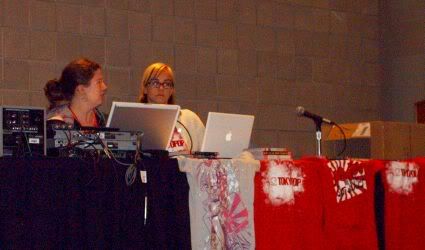 Lillian Diaz-Przybyl and Kasia Piekarz. Tokyo Pop Panel.
Unlike many fan run anime conventions, the NYAF tends to have a large industry presence. The convention guide listed panels for many companies such as:
Viz
,
Tokyopop
, Vertical Inc,
Aniplex
,
Del Rey Manga
,
Bandai Entertainment
, and others. At many of these panels, I often run into noted members of the anime blogosphere (see related link below).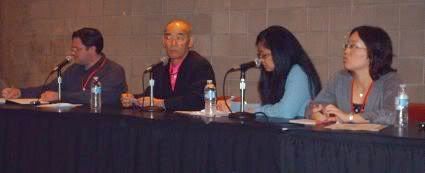 Yoshiyuki Tomino at a Q&A Panel
On the second day of the convention,
Yoshiyuki Tomino(富野 喜幸)
, creator of the
Mobile Suit Gundam series (機動戦士ガンダム)
, held a questions and answers panel. During the event, he responded a wide range of questions regarding his career and his work on the Gundam series. Tomino is notorious for refusing to answer questions, and this panel was not an exception. However, he did provide lengthy answers to questions about film and film-making. Tomino stated that he approached his animation work like a film director focused on cinematic storytelling.
According to an announcement by
Reed Exhibitions
(the company running NYAF), this will be the last time that NYAF will be a standalone convention. They plan to merge the NYAF with
the New York Comic Con
for 2010. I don't know if this is good or bad for the NYAF, but I will miss it as a standalone anime con. I've had some memorable experiences at NYAF and have met very cool people. Most of all I will definitely miss the late night karaoke parties.
Related Links: