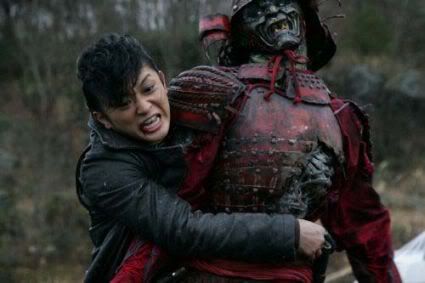 NEW YORK, June 26 –
I was completely stoked about going to see
Vampire Girl Versus Frankenstein Girl (吸血少女対少女フランケン)
with some friends. I bought tickets online, but there was a bit of a mix-up at the
IFC Center Box Office (323 Sixth Avenue)
. Apparently, if you purchase a "10-PACK" online for
the New York Asian Film Festival
, you have visit the box office and declare that you want tickets for a particular movie. Now under the online purchase page for Vampire Girl Versus Frankenstein Girl, you see these options:
There are no notes or warnings about requiring the customer to declare a ticket preference. I assumed that they were all for Vampire Girl Versus Frankenstein Girl. I checked the day prior to the screening about getting my tickets early, and the IFC Center employee said to wait until the day of the screening. I show up to the day of the screening, and I can't get my tickets. They're sold out.
The employee behind the glass pointed at a black-and-white piece of paper that was taped to the glass. It states the fine print which requires 10-PACK customer to declare the particular movie and number of tickets desired.
Now, my receipt said "Vampire Girl Versus Frankenstein Girl" followed by the description "10-PACK". The manager eventually offered a refund, and
I was thoroughly pissed
. I asked my friends Tim, Frank, and Jerette if they wanted to see the next movie,
Yoroi: Samurai Zombie (鎧 サムライゾンビ)
. They agreed, and we decide to watch the next film.
Yoroi: Samurai Zombie is freakish Japanese horror film which is one part
Benny Hill
and one part
Friday the 13th
. Ghoulish looking monsters wearing samurai armor are chasing a couple of criminals and a family through a deserted village. Excessive gore, pools of blood, and slapstick comedy are the main ingredient to this film. It kinda reminds me of
Takashi Miike's (三池 崇史)
films. It was bizarre and uncomfortably comedic.
Tak Sakaguchi (坂口拓)
, the director and stuntman, introduced the movie. He talked about his involvement and the use of his talented stunt team. He especially emphasized his unusual fondness for running people over with cars.
Related Links: