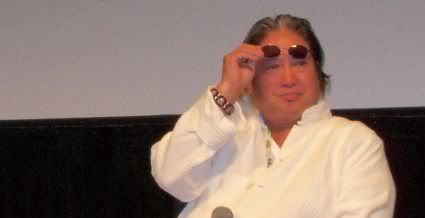 NEW YORK, June 26 –
I missed the opening of the 2010
New York Asian Film Festival (NYAFF)
, so my first impression of this year's festival started with the screening of
Eastern Condors (東方禿鷹)
.
Eastern Condors
is a particularly special film to my generation of Hong Kong film fanatics. I was first exposed to the film in the early 90s. I was probably a 'tween at the time. I remembered watching the film on a poor grainy VHS tape with bad tracking. So the prospects of seeing it on the big screen were very exciting to me.
After the film,
Sammo Hung (洪金寶)
participated in a short Q&A with the folk at the NYAFF. They discussed a variety of topics concerning the making of the film. Hung appeared visibly tired, but he heroically powered through the appearance. The kung-fu legend even acted out some of the behind the scenes stories. He seemed both warm and gracious to his fans.
A real treat for the audience was the surprise appearance of
Joyce Godenzi (高麗虹)
, who is Hung's wife. She was the lead actress in
Eastern Condors
and several other kung-fu flicks. Godenzi initially gained public attention as a former Miss Hong Kong and fashion model. She parlayed her successful modeling career into a decade long Hong Kong film career. She starred in some memorable martial arts films such as
She Shoots Straight
and
License to Steal
. Despite her age, Godenzi is still stunningly beautiful (minus the short 80s hairdo). I was hoping that she would participate in the Q&A, but sadly she didn't.
After the Sammo Hung Q&A, I stuck around the theater until the screening of
Kung-fu Chefs
. It's another Sammo Hung film of a more recent vintage. While waiting for the screening to start, I unexpectedly ran into a bunch of friends from other blogs, podcasts, and local anime clubs. They were pretty chill.
Related Links: