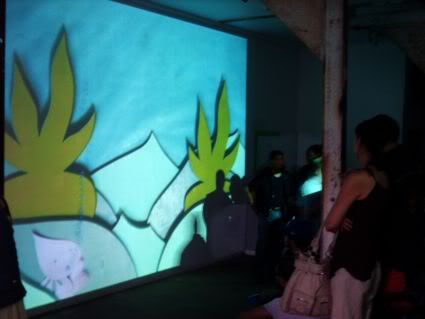 Breathing Underwater Short by Eric Nakamura and Saelee Oh
NEW YORK, June 4 –
As a major promotional tour,
Scion
(division of
Toyota Motor Corporation
) sponsored a gallery installation consisting of avant-garde short films. Touring under the name of
Scion Installation Six
, the gallery show held an exhibition opening at the
Eastern District
in Brooklyn.
Surprisingly the gallery space was a small sliver of real estate that was probably someone's garage in a former life. In terms of set-up, the show consisted of three different projectors which played several short films simultaneously. Each projector was focused on different spots along the gallery's bare walls, and gallery visitors were constantly shifting their attention from one spot to another.
The gallery installation tour featured videos from many different artists including
Eric Nakamura
(
Giant Robot Magazine
),
Saelee Oh
,
Dust La Rock
,
Funeral Fog
,
Ill-Studio
, Josh Graham, Mark Mothersbaugh, Monihan Monihan,
PMKFA
, and
Sage Vaughn
.
There were a few notable film shorts.
Breathing Underwater.
The first was an animation piece by Eric Nakamura and Saelee Oh. Their brightly colored animation was a cut-out stop-motion video similar to
South Park
. The short featured an underwater world of sea creatures, fish, and bizarre characters. It was very serene.
Behind the Scenes of Breathing Underwater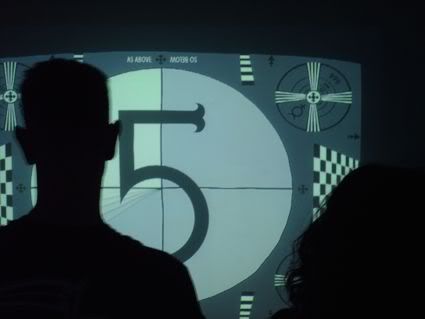 Video Montage by Dust La Rock
Dust La Rock.
Another amazing short film was created by Dust La Rock. It was a bizarre film collage of famous images including Roman busts, religious symbols, and Black Panther demonstrations. The whole film was framed by graphics similar to a film leader countdown. I enjoyed the bizarre mixture of symbolic and historical references.
Holographilia by Ill-Studio
Holographilia.
It's probably one of the most psychedelic films of the entire traveling gallery show. Ill-Studio's creation featured mannequin hands floating across the screen and disembodied human hands playing piano keys superimposed over a marble wall. A sad creepy piano melody is played during the entire film. Very creepy.
Behind the Scenes of Holographilia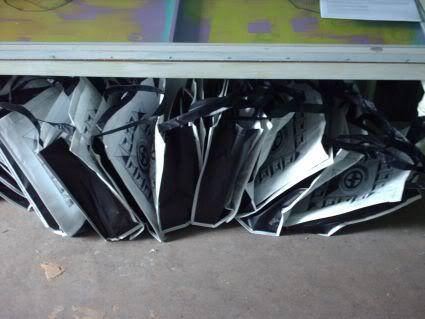 The Scion Swag Bags
Some gallery visitors came for the amazing videos, and others came for the swag. The gallery was stuffed with tons of Scion swag bags.
Related Links: