Quminco Grape and Nagai Grape
NEW YORK, June 5 —
I had a late meeting at work, which ended at 8:45 PM. As soon as I got out of the meeting, the only thing on my mind was the Budo Grape performance.
Budo Grape is a Japanese electro-pop band from
Nagoya
. They are best known for their sugary electronic dance beats and the hi-octave vocals provided by Quminco Grape. They were performing to support
Juice!
, their greatest hits album.
Budo Grape was playing at the
Knitting Factory
(74 Leonard Street), and doors opened at 6:30 PM. They were on a bill with several other bands, and I figured that they were going to play closer to the end of the night. I had a slim chance of catching their performance.
I rushed down to the Downtown Express 1 train with Yan, a coworker. We got off at the Chambers Street Station. After a few blocks of walking, we made it to the Knitting Factory. I asked the door man if Budo Grape finished their performance. He told me that they just started playing. My gamble paid off...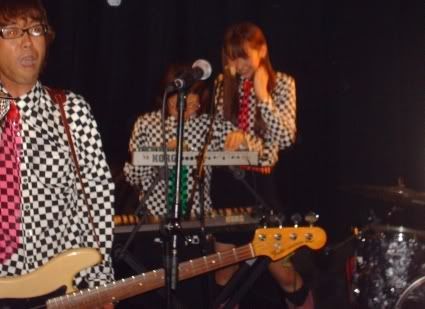 Left to Right: Matsui Grape, Midori Grape, and Quminco Grape
They were only into their second song as I entered the small room. There were about twenty people in the audience, but the crowd was filled with die hard fans.
Budo Grape played a lot of their poppy hits with vigor. They are a fun band to watch live. The band exuded a fun and wacky sense of humor. The whole place had a positive fun vibe.
Quminco, the lead vocalist, was very entertaining. She had a very distinctive high pitched voice. It was even more distinctive live. She was also jumping around the stage like a crazy racquetball. Her bouncing was incredibly infectious. After a few songs, I was even hopping along with Quminco.
Midori, the band's self-proclaimed Mushroom alien, wrestles some great synth-pop sounds from her keyboards. Budo Grape's song are straight pop, but Midori's synthesizers added a wacky fun texture to the entire sound. Her playing creates a kinda of vocal harmony with Quminco's high pitched voice.
The rhythm section, Matsui Grape and Taichi Grape, were very good. In some songs, they even got a little funky. They were very cool.
However, the hardest rocker was Nagai Grape. The man can wield an axe. He tore through the entire set with sheer force. He was definitely the power behind their live show.
The highlights for me were: "Rescue Rescue" and "Penki Nuritate".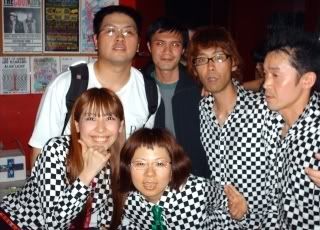 Budo Grape, Yan, and me
After their short set, the band spent some time with fans. They were willing to autograph anything including arms and legs. I'm not a big fan of autographs, so we just hung out with the band. They were awesome.
Related Links: