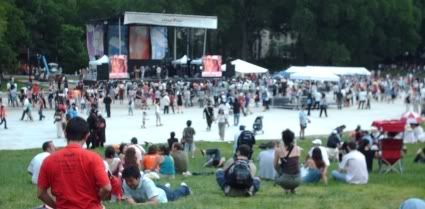 Main Stage, Central Park
NEW YORK, June 1 —
On a beautiful spring day, the Japanese community of New York ran an amazing
Japan Day Festival
in
Central Park
. The festival was an all day event with tons of cool activities.
The festival began with a four mile race at 8 o'clock in the morning. I did not participate in the run. Now, I like running. On a normal day, I would have run the four mile race, but it was Sunday morning. Don't get me wrong… I'm not religious, but Sunday mornings are sacred to me. I cherish my quiet Sunday mornings with late wake-ups and slow brunches.
At about noon, I lazily made my way to Central Park. I missed a lot of the morning programming, so I made a quick tour around the perimeter. The festival consisted of a main entertainment stage and activity booths encircling the audience area.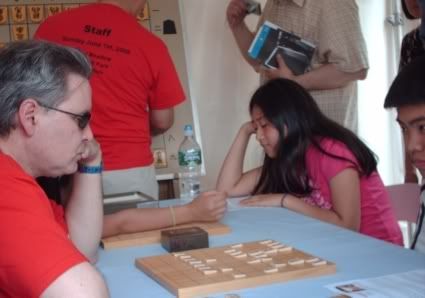 Go and Shogi Booth
The first booth was the
Go
and
Shogi
booth. There was a decent line of people waiting to play. I was amazed that there were a number of kids waiting to play traditional board games. I figured most kids were surgically attached to their Nintendo DS. It was cool to see young kids playing against older and more experienced players. Maybe, the popularity of
Hikaru no Go (ヒカルの碁)
, manga and anime, has inspired younger people to play tradition board games again. I watched a few games before moving to the next booth.
Robot Battle Booth
The next booth was the Robot Battle booth. In this tent, they setup tables and small remote control robots (about 6 inches in height). The line was almost exclusively kids, and they absolutely loved it. Some of the robots were insect-like. They look very similar to mech designs by
Masamune Shirow (士郎 正宗)
. One spider robot looked very similar to a
Tachikoma (タチコマ)
. The line for the Robot Battle booth was pretty big.
After the Robot Battle booth, they placed a small tent with
Actroid
, a life sized (1:1 for you
Gunpla
builders) android. The robot was dressed in a
kimono
. It was supposed to be a very life-like human robot. Noah, host of
the Ninja Consultants podcast
, didn't think it was really life-like. It was very similar to
animatronic
puppets found at major theme parks. Some people said that the innovation was the voice recognition and response system of the robot. The crowd of adult male geeks made it difficult to get close to the robot. I couldn't get a good picture of it.
I continued to the last two activities booths.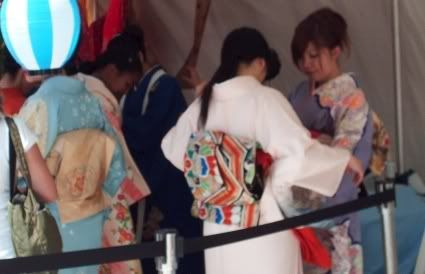 Kimono Booth
The most popular booth was the Kimono Fitting booth. Women were measured and dressed in traditional
kimono
dresses. The line was monstrous. A festival staffer had to close the line. He held a simple cardboard sign that read "Line Closed". I guess the attraction is getting a photo in the full kimono. The kimonos were absolutely beautiful.
Hello Kitty Booth of Doom
The last booth was the most frightening sight ever. THE HELLO KITTY PHOTO BOOTH. The horror of
Sanrio
has a traveling road show. This line was also pretty big. It was pretty scary to see someone professionally cosplaying as Hello Kitty (ハローキティ). I will only refer to it as the
Hello Kitty Booth of Doom
. "CHIIZU" (チーズ)!
The main stage had some amazing acts scheduled. There were many cool acts such as
Gaijin A Go-Go
,
Happyfunsmile
, and
HALCALI
.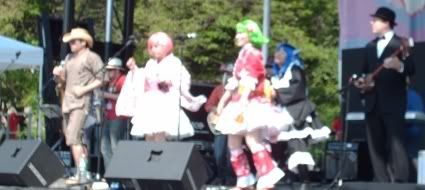 Happyfunsmile
The highlight for me was the
Happyfunsmile
set. Their shows are always filled with fun positive energy. They never fail to get a crowd excited and dancing. Their eclectic mixture of traditional Okinawan and modern pop music is infectious. Rodrigo Morimoto, a vocalist for Happyfunsmile, was noticeably absent from the line-up. However, the remaining vocalist (Brian Nishii, Akiko Hiroshima, and Kaori Ibuki) still managed to put on an amazing show.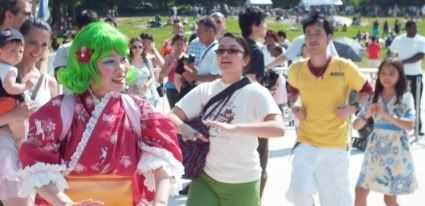 Kaori Ibuki leading a dancing line
They were followed by
HALCALI (ハルカリ)
, a Japanese pop/hip-hop duo. HALCALI is best known for their unusual mix of old school hip-hop and pop styling. I know them from their freaky music videos such as:
"Strawberry Chips" (ストロベリーチップス)
,
"Twinkle Star"
, and
"Baby Blue"
. Most of their American anime fans know them for
"Tip Taps Tip"
, a catchy pop song on the
Eureka Seven (交響詩篇エウレカセブン)
Original Soundtrack (OST). Most of the anime fans were waiting for their performance. They seemed a little nervous at first, but really hit their groove with "Tip Taps Tip".
During the HALCALI performance, I ran into Erin and Noah,
the Ninja Consultants
. They were chillin' with the some folks on the grass. It was the first time I got a close look at Erin's famous bronze
Byzantine engagement ring
. It was very cool. Erin also introduced me to Carl, the creator of
the Ogiue Maniax blog
. He was a completely cool cat. We hung out for a little while before getting stuffed into the Downtown 6 train.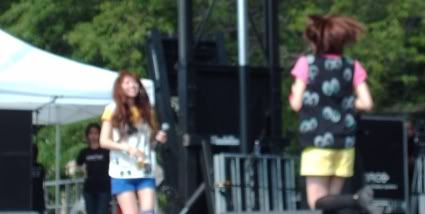 HALCALI
I also ran into some
Metro-Anime
folks such as Willow, Dan, and Charles. It was good to see them again.
Japan Day was a pretty cool and laid back afternoon in Central Park. It was good to see the Japanese community showcase their amazing culture in the heart of New York City.
Related Links: