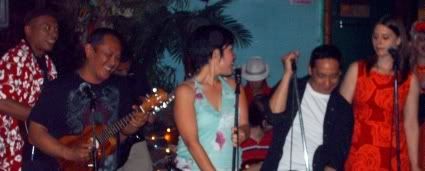 The Jack Lords at Waikiki Wallys
NEW YORK, June 13 —
The Jack Lords
played the back room of
Waikiki Wallys
(99 East Second Street), a Hawaiian Tiki joint. It was a tight and crowded little venue, but the Jack Lords still manage to rock some big tunes.
The Jack Lords perform an unusual mix of hawaiian folk, pop, and alternative rock. Riley, the band's drummer, and I tried to encapsulate their sound in one phrase. After many failed attempts, we settled on "modern ukulele alt pop".
They sang all of their great songs like "Molokai", "Rayd", and "Mr Malaise". In addition, Christine, one of the band's vocalist, rocked a tune of her own. Her vocals sounded great.
The Jack Lords also performed a tradition Hawaiian
hula
song. This prompted the Waikiki Wally's waitresses to stop their service and perform a tradition hula dance for the audience. The waitresses were also joined by Carol, a good friend of the band. It was a pretty awesome impromptu dance performance.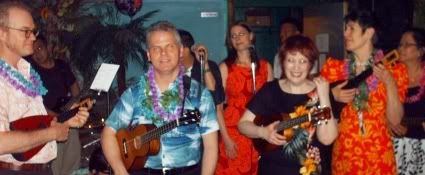 The Jack Lords share the stage with The NYC Ukulele Meetup
After a few songs, the Jack Lords brought
The New York City Ukulele Meetup Group
onto the stage. They played a couple of songs together including an amazing rendition of "To The Stars".
The night was filled with fun "modern ukulele alt pop" music.
Related Links: