First Floor of the MoCCA Art Fest
NEW YORK, June 7-8 —
The Museum of Comic and Cartoon Art's
Art Festival is one of the biggest gatherings of independent comic book creators in the United States of America. The festival is professionally sponsored and run by the Museum of Comic and Cartoon Art (MoCCA). Except for the programs, most of the festival was held at
the Puck Building
(295 Lafayette Street), which is around the corner from the actual museum (594 Broadway).
The MoCCA Art Festival is difficult to describe to the uninitiated.
If you have anime con experience, it kinda like an anime convention, but the emphasis is largely focused on the huge dealer's rooms. This year's festival filled two floors with dealer's table. It was pretty massive and packed to capacity. The festival organizers did schedule a decent program of events at the museum, but most people don't attend this festival for programs. They go mostly for the dealer's room.
In some ways, it's like
Comiket
. All the tables are filled with comic book circles, small press, and individual comic book artists. They sell everything from quirky t-shirts to photocopied comic books zines.
Unlike Comiket, most of the independent comic books are original works with original characters, and only a small percent of the material is outright pornographic.
Most of the merchandise is humorously clever and very appealing to the young hipster zeitgeist.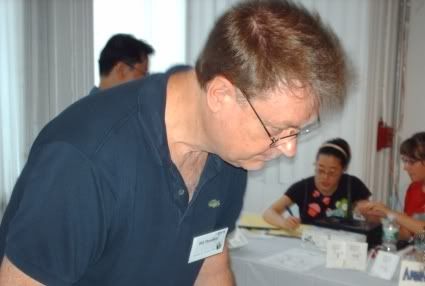 Bill Plympton
As soon as I paid my admission, the first table I notice was the great
Bill Plympton
. I've been a big fan of Plympton since watching his cartoon shorts on
MTV's Liquid Television (1991)
. His humor was eye opening in the early nineties. At the festival, he had a small white table with his books and DVDs. He took the time to sign and sketch something for each fan. I'm not an autograph collector, but I let him sign my graphic novel anyway. At first, I didn't know what to say… I was at a loss for words. I just said, "I'm a big fan." It was just awesome to talk to him.
Adrian Tomine
I walked around the first floor for a bit, and I recognized Mister
Adrian Tomine
, comic artist for the
New Yorker Magazine
. He was at the
Drawn and Quarterly
table. I got a chance to talk with him. I immediate apologized for missing his gallery show for
Shortcomings
at the
Giant Robot store in New York
. He was totally cool about it. After a few minutes of talking, I discovered that we shared some mutual friends at
Giant Robot Magazine
.
I picked up a few issues of Tomine's
Optic Nerve
(Issues 9, 10, and 11). I love his art style. He has very clean line work. If you get the chance to pick-up
Optic Nerve
and
Shortcoming
, definitely buy it. It's a good read.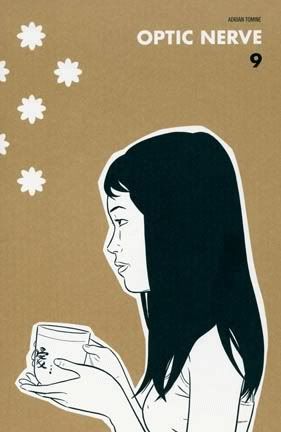 While at the Drawn and Quarterly table, I also picked up the hard cover printing of
Yoshihiro Tatsumi's
The Push Man and Other Stories
and
Abandon the Old in Tokyo
.
WARNING:
Tatsumi was the godfather of
Gekiga
, therefore it might not be appropriate for children or the weak-at-heart.
Anime World Order's
Daryl Surat did an excellent review of
The Push Man and Other Stories
in his podcast. I picked it up based on Daryl's recommendation. You can find his review
here
.
After I bought a few more comics, I headed upstairs to the seventh floor of the Puck Building. I immediately saw the hand drawn sign, "Bruce Lee vs. Jesus". Peter Quach, the creator, was selling
You Don't Know Much About Jesus
. The book was an eight page photocopy comic, and it prominently features a fight between Bruce Lee and Jesus. The mere concept of Bruce Lee fighting Jesus was pretty awesome. The comic was only a dollar, so I had to buy one.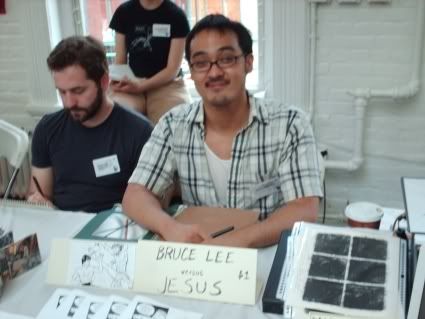 Peter Quach and his "Bruce Lee vs. Jesus" sign
Right next to Quach, a table was selling pretty awesome t-shirts. I didn't pick one up because I wanted to save my money for actual comics and graphic novels. But, I did take a few pictures: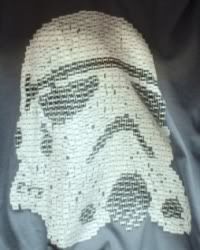 Left: Bruce Lee T-Shirt, Right: Star Wars Stormtrooper T-Shirt (made up of tiny TIE Fighters)
I walked around the floor and picked up a few more comics and graphic novels. I took the elevator back to the ground floor and made another sweep of those tables.
I was near the
Freddie and Me
table. Come to think of it: I should have picked up a
Freddie and Me
book. It looks awesome. I didn't buy it. Anyway, I was pulled by the gravitational force of the Freddie Mercury's statue. It was like a beacon calling me home.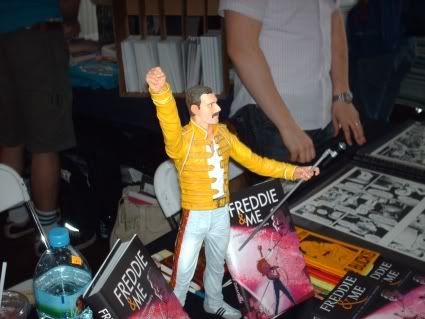 The gravitational pull of Freddie Mercury
As I got closer to Freddie, I bumped into the goddess of pop culture journalism,
Whitney Matheson
. Whitney writes
"Pop Candy"
, which is a popular column/blog in
USA Today
. She is also frequently quoted on television and in-print. I've been reading her column since the late 90s, and I hold her opinion about pop culture in the highest regard. She continues to be one of my top three favorite bloggers.
Whitney mentioned that she was going to be at the festival on her blog, so I e-mailed her about it. When I ran into her, she had an arm full of comics. We talked a little bit about her blog and about the festival. The conversation strangely segued into a conversation about her footwear. She wore her signature Chuck Taylor All Star Low Top Converse sneakers. She said that they were a bit uncomfortable. I thought they were completely "punk".
(Post-Editorial Note: Whitney Matheson interviewed Mike Dawson, author of
Freddie and Me
.
Podcast: A glimpse inside 'Freddie & Me'
)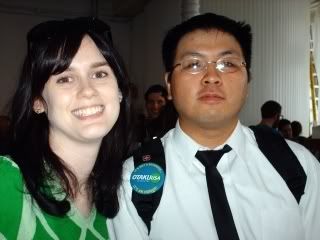 Whitney Matheson and me
Due to a scheduled dinner and a greatly weakened bank account, I had to leave the MoCCA Art Festival. I said goodbye to Whitney and left. It was totally awesome to meet her. She is one of the coolest chicks that I've ever met.
Partial List of Comics that I Picked-up at the MoCCA Art Festival:
Casson, Ronnie. Claviger (Issue2)
Del Rio, Tania. Knit Wits.
Epic Proportions. Burn
McMurray, Mark. Dumb Jersey White Boy (No. 1)
Plympton, Bill. We Eat Tonight
Quach, Peter. You Don't Know Much About Jesus
Student Press Initiative. Manga Mania
Tatsumi, Yoshihiro. Abandon the Old in Tokyo
Tatsumi, Yoshihiro. The Push Man and Other Stories
Tiede, Dirk I. Paradigm Shift, Part One
Tomine, Adrian. Optic Nerve (Issues 9, 10, 11)
Ward, William. Fablewood Anthology
Related Links: