NEW YORK, December 8 —
The New York Anime Festival
was a very cool anime convention. Peter Tatara did an amazing job with putting together this convention.
I could only attend the very last hour of Saturday's show (December 8). I was stuck at work until 5:30 PM because of an insane amount of paperwork. After work, I raced over to the
Jacob K. Javits Convention Center
with all haste. I got to the convention at roughly 6:30 PM. I got a little lost, and I had a tough time finding the registration.
After all the pain of getting my badge, I walked around the convention looking for the
Otaku USA
panel. I ran into Angela, Mandisa, and Dan from the local
Metro-Anime
club. They seemed to be shopping happily. They had the anime con game down to a science. I talked to them for a little bit.
Otaku USA panel. Left to Right: Joel White, Dave Riley, and Daryl Surat
After some searching, I found the Otaku USA panel and stayed for the very last minutes of the panel. After the panel ended, I got to meet-up with some friends. The group consisted of Dave Riley (
Fast Karate for the Gentleman
), Joel White (
Fast Karate for the Gentleman
), Daryl Surat (
Anime World Order
), Erin (
Ninja Consultants
), Patrick Macias (
Otaku USA
), and Matt Burnett (
for tax reasons
).
After the convention, the group met up with other very cool cats including Noah (
Ninja Consultants
), Chris Oarr (
ADV Films
), Zac "Answerman!" Bertschy (
Anime News Network
), and other members of
ANN
. Patrick took his leave.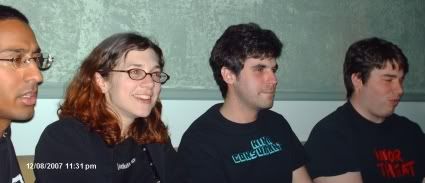 Karaoke All-Stars. Left to Right: Daryl Surat, Erin, Noah, and Joel White
The rest of the group found it's way to a local karaoke bar in Koreatown, NYC. Everyone took turns rocking the mic. It was a crazy round-robin of embarrassing 80s pop hits and hard edged rock-n-roll classics. Erin rocked the
Bon Jovi
play list, while Chris belted out some great classic rock hits. I worked some
Steppenwolf
. Noah, Zac, MCBurnett, and Joel also rocked the mic pretty hard. There were awesome performances from everyone. It was a night of All Stars Karaoke players.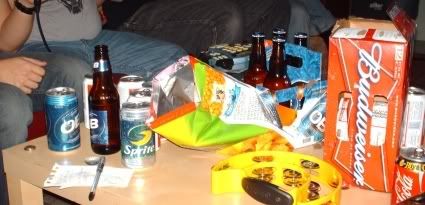 Our voices were fueled with a powerful mixture of Japanese snack foods and alcohol.


The Ninja Consultants: Erin and Noah. The fiercest tag team since Demolition.
However, we were all humbled by Dave Riley, the grandmaster of the mic. His Kung-fu was in top form.
Pai Mei
would be proud of Dave, his spiritual disciple. Dave sang everything from
Back Street Boys
to the
JAM Project
.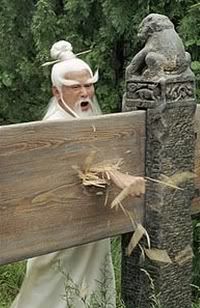 Masters of the Wu-tang school of karaoke.
We rock hard so you don't have to... to be continued (Part 2).