NEW YORK, December 9 —
After the ending ceremonies of the
New York Anime Festival
(December 9), some people took the party to the
Forbidden City
Bar and Lounge (13th Street & Avenue A). This is the so-called "After Party". The bar had half price drinks for everyone with the New York Anime Festival badge. This badge discount gave everyone a quick and cheap infusion of alcohol.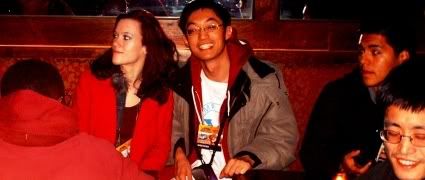 New York Anime Festival After Party at Forbidden City.
The post-con gathering consisted of con attendees, cosplayers, dealer room merchants, and volunteers. Party goers came to the bar as individuals or small groups. I tried to corral everyone with con badges around the tables in the back of the bar. Most of the party goers were strangers, but they quickly became fast friends.
After some heavy drinking, the group quickly moved over to the karaoke bar across the street. No, it was not my idea. The group was pulled by the gravitational forces of the karaoke machine. It was against my better judgment, but my better judgment was impaired by several Jack Daniels.
Looking for the perfect karaoke song.
The karaoke bar was extremely small, and they only had one karaoke machine hooked up to several televisions in the bar and lounge area. The bar supplied us with little yellow post-its. We wrote our song selection on the post-it and gave it to the bartender. The bartender put the post-its on a board. All requests were placed in a single queue on the board. As song came to the top of the queue, the bartender punched the song numbers into the karaoke machine, and he handed out the microphones.
The first song was free, but each additional song was $2. I put in my song and waited for quite a long time. The queue was freaking long. In the meantime, Jess, a cosplayer, got her song on the machine. Jess and a few other otaku got together to sing
Weird Al Yankovic's
"White & Nerdy". It was a surreal experience.
Otaku singing "White & Nerdy".
When my song came on, I rocked the bar with
Harvey Danger's
"Flag Pole Sitta". I was jumping around and screaming the lyrics with a drunken confidence. Shortly after I exorcised my karaoke demon, I took a short rest. After a few more songs, we all left the bar and went home. It was a hard rocking finish to an awesome weekend.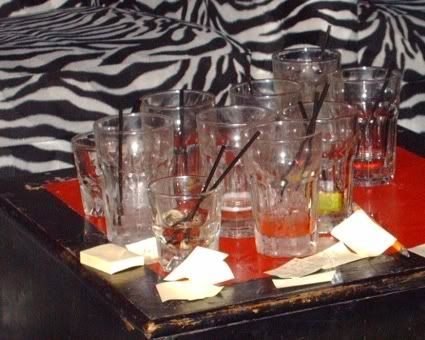 And yes... this round of karaoke was also fueled by drinking.