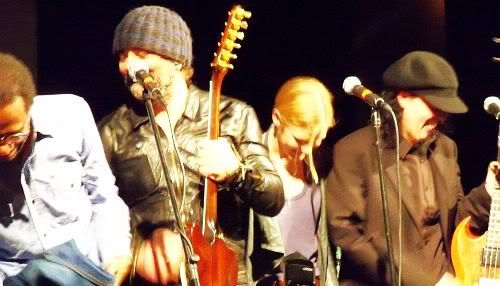 Left to Right: Brian Blade, Daniel Lanois, Trixie Whitley, and Jim Wilson
NEW YORK, November 17 –
I usually don't post two similar pieces back-to-back on this blog, but I'm making an exception. After being blown away by
Black Dub
's stripped down show at the
CMJ Music Marathon
, I decided to attend their full band performance at the
Bowery Ballroom
.
I was eager to see the complete band including Brian Blade and Daryl Johnson. They were a super group jam band therefore the live performance is supposed to be top notch. I was already somewhat familiar with
Brian Blade
's solo work, and I always admired his skills behind a drum set. Also Daryl Johnson was pretty amazing on the Black Dub recording.




Click on the image for higher resolution.
After a long video montage, the band walked onto the stage with the noticeable absence of Johnson's bass. He was replaced by Jim Wilson for this show. I'm didn't know they were going to use a different touring bassist. Anyway, I settled in and watched them deliver a pretty soulful rock performance.
Some of the highlights of the performance were "
Sing
", "
I'd Rather Go Blind
", and "
Silverado
".
The entire band added their own unique flavor to the musical gumbo of rock, blues, jazz, and R&B.
Daniel Lanois'
guitar work was sharp and on point. His bluesy riffs were crisps and voice was appropriately gruff.
Trixie Whitley
brought her trademark soul influenced vocals for most of the numbers. She also displayed her multi-instrumental talents on various songs frequently switching between guitar, drums, and keyboards. However, the star of the night was definitely Brian Blade with his absolutely amazing work behind the drums. His drumming was powerful and jazzy with tasty morsels of beautiful accent fills. His playing seems to flows effortlessly from his body.
As part of their encore, Black Dub ended their memorable performance with a particularly soulful rendition of "
Silverado
". The audience was ecstatic.
You can also find more videos of Black Dub's performance at the
Blog's Youtube Channel
.
Related Links: