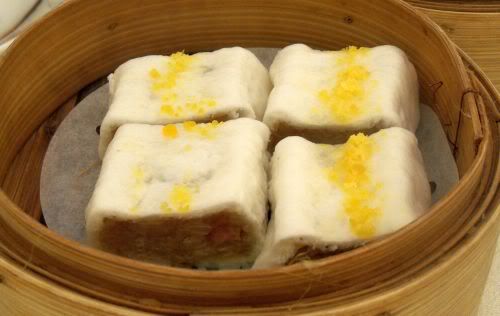 Glutinous rice and Chinese sausage.
HONG KONG, December 23 –
When I'm in Hong Kong, I always look for the most creative and tastiest dim sum dishes in town. The competition is extremely intense with the countless number of tea houses and restaurants lining every major thoroughfare. The financial survivals of these establishments are reliant on their ability to innovate, steal, and borrow. Unlike their Western counterparts, the chefs here don't rely on the same classic favorites like a simple cheong fun (腸粉) or shaomai (燒賣). They keep redefining the notion of dim sum in an effort to constantly improve their menu. Here are some of my favorite little discoveries.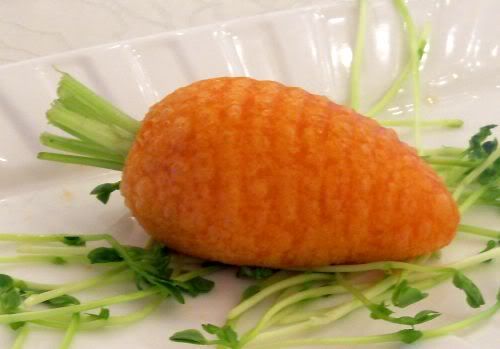 A carrot shaped deep fried dumpling filled with minced pork mixture from the
Palace Restaurant
. It's located on the corner of Mong Kok Road and Cheung Wong Road, Mong Kok District.
Sweetened warm tofu cooked in a coconut. It's served in several restaurants including the Palace Restaurant and
Ho Choi
Chain of Tea Houses.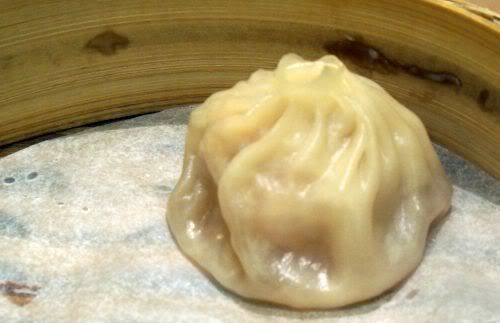 Every time I go to
King's Lodge
, I always get the steamed pork dumpling which is their signature dish. It's a small dumpling stuffed with a delicious ground pork filling and soup. If you aren't careful, your first bite might lead to the spillage of the wonderful soup inside the dim sum. The newly renovated King's Lodge is located on G/F, Oriental Center, 67-71 Chatham Road South, Tsim Sha Tsui District.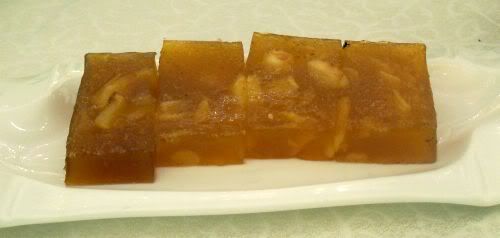 Water chestnut cakes. They aren't really cakes but stiff jello molds with tasty bits suspended inside. I rarely see these cakes in the US, and they were never this good.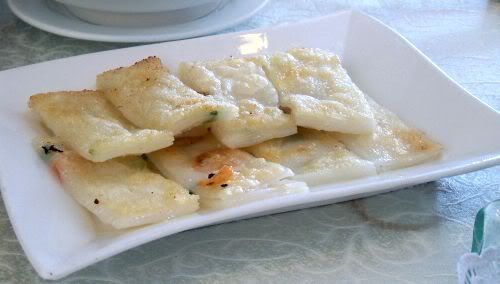 Deep fried cheong fun from Ho Choi. This one is located on UG Floor, Empire Centre, 68 Mody Road, Tsim Sha Tsui District.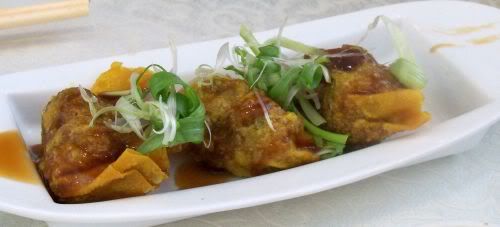 Deep fried dumpling filled with a ground beef meatball also from Ho Choi.