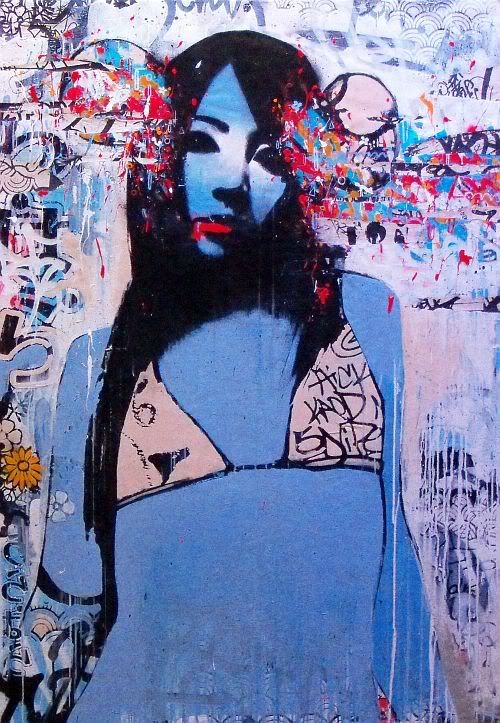 American Dreamer
NEW YORK, November 19 –
The Angel Orensanz Foundation
hosted a brief gallery exhibition for British street artist
HUSH
. The current series of paintings is titled "Found". In the past, the artist has been known to combine elements of graffiti art, anime, manga, and Asian pop culture.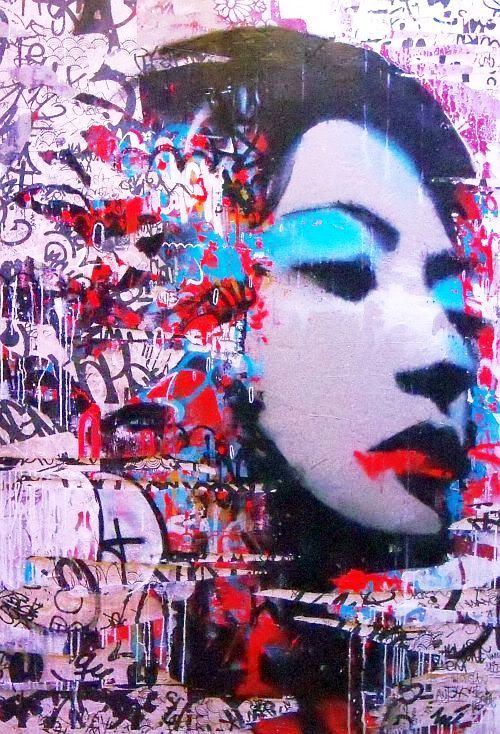 Found in the City
In his current exhibition show, he has moved noticeably away from the anime and manga figurative imagery while maintaining an Asian sensibility. The focus of many of his paintings is East Asian females wearing both traditional dresses and contemporary outfits. When I asked about him about his figurative thematic focus, HUSH discussed his desire to find the perfect sensual form arguing that his early manga influenced pieces were a part of the same goal. He mentioned drawing influences from more adult manga genres. However, he feared that the cartoonish look might be misinterpreted by the art establishment as cute and too child-like. This current show seems like a reaction to the impressions of his previous work. This series is all about feminine sensuality without any of the manga-esque visual language.
If I Was Today
Despite the sharp change in figurative visual language, the artist still maintains the same exciting elements in his past work. One of his trademarks is the use of visual density. His under-paintings are so detailed and intricate that they could probably serve a separate works in their own right. HUSH layers his primary painting directly over the highly finished under-painting with the same eye for detail thereby creating a very dense visual field. The artist said that he finds it difficult to paint on a blank canvas. Therefore he prefers to build the world around the painting before developing a central theme. The other key feature is the heavy Asian pop cultural influences. In addition to using the Asian female form, he also incorporates Japanese design elements like manga screen tones and traditional Japanese textile patterns. Furthermore, he frequently uses hiragana and kanji in his graffiti tags which directly connect his work to his primary influences.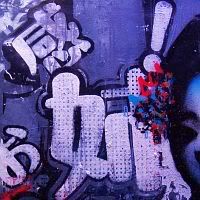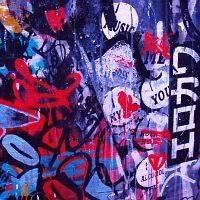 Detail of If I Was Today
At the date of this blog post, the exhibition is scheduled to close. It was only planned for a short three day run.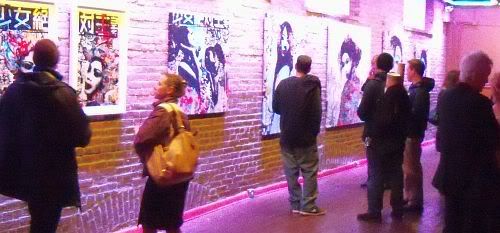 Related Links: