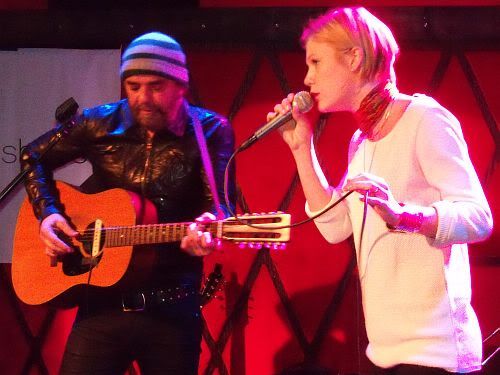 Left to Right: Daniel Lanois and Trixie Whitley
NEW YORK, October 23 –
While I was attending the
CMJ Music Marathon
to see other indie acts, I checked their overall schedule of performances and noticed
Black Dub
was set to play on Saturday evening. Black Dub is the current incarnation of
Daniel Lanois'
super group with a rotating roster of rock/jazz/blues virtuosos. If you don't know Lanois' name, he has produced some of the biggest landmark rock albums such as
U2's
The Unforgettable Fire
, U2's
Achtung Baby
,
Peter Gabriel's
So
, and
Bob Dylan's
Time Out of Mind
. He is also an absolutely brilliant musician.
The current roster of Black Dub consists of Daniel Lanois (guitar),
Trixie Whitley
(lead vocals),
Brian Blade
(drums), and
Daryl Johnson
(bass).



Click on the image for higher resolution.
Trixie Whitley, daughter of the late bluesman
Chris Whitley
, is the latest addition to the band. She is a multi-instrument talent with the voice of an old soul. Every time I hear her voice, I am so befuddled. I keep asking myself, "How can such a smoky soulful voice be bellowing from this slight twenty-three year old blonde?" Moreover, Whitley's voice possesses an amazing depth of emotional resonance. It breaks and strains perfectly on the crescendo of her songs causing a heartbreaking sound.
When I walked into the
Rockwood Music Hall
, it was packed with folks including a number of press people. I squeezed my way to the front of the stage when everyone else was getting drinks from the bar. I was going to save my drinking for later and want to get front row with this super group.
I couldn't believe the band was going to squeeze onto the small stage. Then I was surprised when only Lanois and Whitley took the stage. Instead of a full band, the duo was going to perform without any drums or bass.
Despite the rhythm section being absent, the duo performed a thirty minute stripped down set of devastating R&B. Lanois proved to be a highly polished guitarist with a razor sharp edge to his playing. He was absolutely awe-inspiring to witness. As for Whitley, her voice seemed a little harsher than the studio recordings. Lanois mentioned that the duo has been traveling non-stop and Whitley's voice has been a little strained. I didn't mind, and I loved hearing the subtle differences. Her performance was still pretty amazing.
Some of the highlights of the performance were "
Surely
", "
I Believe in You
", and "
I'd Rather Go Blind
".
Overall, it was an awesome performance regardless of the lack of Brian Blade's drums and Daryl Johnson's bass.
Related Links: