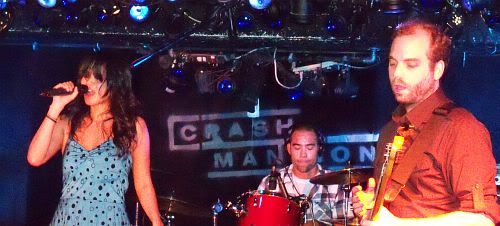 Right to Left: Steve Paelet, Chip Thomas, and Teresa Lee Chaisiri
New York, July 17
– After recently winning the Grand Prize at
Kollaboration
New York, the
Paperdoll band
played at the
Crash Mansion
.
According to their
website
, the band was planning an extensive tour of Shanghai (which has just concluded). They were scheduled to play one last performance before going to China. I heard about it at the very last minute and hastily rushed over to the venue. I wanted to see them before they embark on their overseas journey.
I was late. As I walked into the venue, Teresa Lee Chaisiri was already bouncing around the stage and hammering her keyboard. I probably missed the first few songs.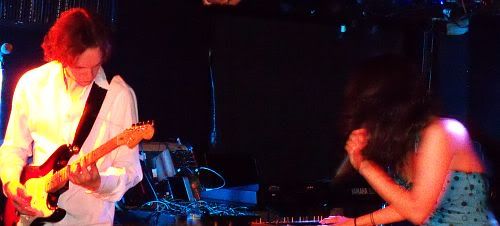 Right to Left: Teresa Lee Chaisiri and Patrick Moloney
The highlights of their performance included "If Nothing Happened", "I Know", and "You Can't Stop It".
The Paperdoll band really rocked out. Teresa's vocals are the most noticeable part of their live performance. She belted out her lyrics at full force with a harsh musical texture. It's very reminiscent of vocalists like Pat Benatar and Patty Smyth. In addition, Patrick Moloney's interesting use of effects and progressions gave many of their songs an electric bluesy feel. He had several opportunities to really rip. The rhythm section was very fun and light with Steve Paelet on bass and Chip Thomas behind the drums.