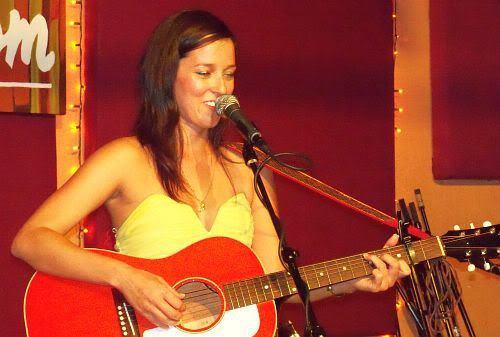 New York, August 29
– On a steamy warm summer night,
Meiko
took the stage at the
Living Room
. The Los Angeles based indie rockstar was a rare sight in the Big Apple, but she managed to pack the audience with fans.
Armed only with an acoustic guitar, she entertained the New York crowd with a combination of melodic songs and funny side stories. Between each song, Meiko would talk to the audience and sometimes carry on fully conversations.
Filled with sass
, she entertained the crowd with personal stories about love, her music career, and money. Meiko spoke as much as she sang. It kind of reminded me of the
VH1 Storytellers show
.
Members of the audience randomly shouted questions and remarks. Meiko was gracious enough to entertain them.
One audience member was particularly vocal during her performance. I don't know if he was part of her
Vinny Chase-esque entourage
or a really drunk fan. He kept trying to identify her chord changes and shouting them from his seat.
Most of his comments were like, "A minor, Yeah!"
Jeez… I didn't appreciate listening to the impromptu music commentary track while Meiko was playing.
Balls…
He also kept calling her "Meeks". I've never heard anyone address her by that nickname. In an odd way, I found it kind of interesting. Maybe I'm a sucker for single syllable nicknames, but it sounded cute. I think I'm going to start a calling her "Meeks" too.
Some of the highlights of Meiko's set were "Boys with Girlfriends", "Piano Song", and "Real Real Sweet".
Meiko's performance was pretty entertaining with a very straight forward approach to both lyrics and melody. Her set was filled with plenty of love songs and break up tunes. However, I was more fascinated by her humorous tongue-and-cheek songs like "Real Real Sweet" and "You Gotta Fucking Tip". They played directly on her snarky and
sarcastic personality
, which might be abrasive to a general audience. I thought it was cute in a
tsundere (ツンデレ)
sort of way.
You can find more videos of Meiko's performance at the
Blog's Youtube Channel
.
Related Links: