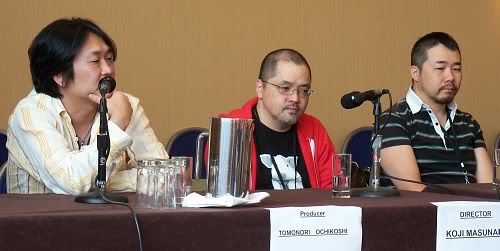 Press Conference with the creative team behind Welcome to the Space Show. (Right to Left) Masashi Ishihama, Koji Masunari, and Tomonori Ochikoshi
Baltimore, August 1
– The centerpiece for
Otakon
2010 was the US premiere of
Welcome to the Space Show (宇宙ショーへようこそ)
. It was an original animated feature film by
A-1 Pictures Inc
. I attended the movie screening with a bunch of friends including bloggers, podcasters, and press. I will probably write a full review of the movie for the next issue of
Giant Robot Magazine
.
At the screening, I sat a couple of seat away from Gerald Rathkolb (
Anime World Order
). He had recently purchased five pounds of fudge.
I was befuddled by his culinary decision
. I don't know what possesses a man to buy so much fudge.
Was he trying break some competitive eating record?
He repeatedly insisted that he got a great deal.
Gerald, who is incapable of ingesting so much
sugar
, proceeded to give away large chunks of the chocolate confection. Some people didn't want any part of
his madness
. They either refused outright or tried to hand their piece of fudge to me. I didn't want to be inhospitable, so I had a small piece.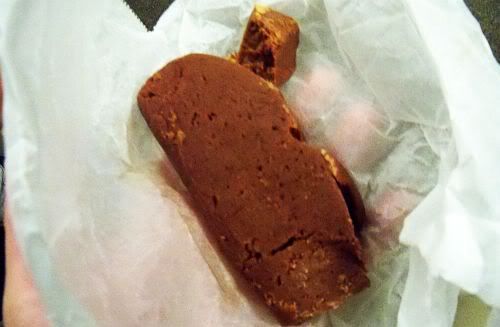 1 Pound of Fudge
Cosplay
The convention also featured some very creative and elaborate cosplay outfits. Here are some of my favorites:
Bahamut from Final Fantasy (ファイナルファンタジー)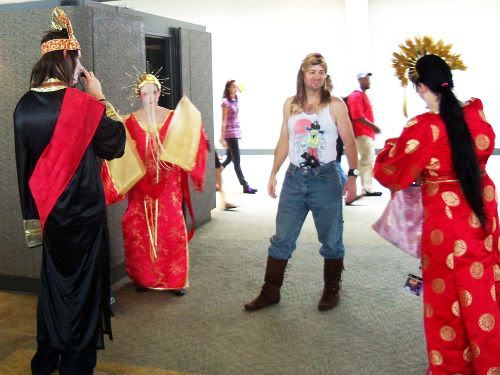 Big Trouble in Little China cosplay group.
This is a complete guess: Vocaloid Cosplay?
Related Links: