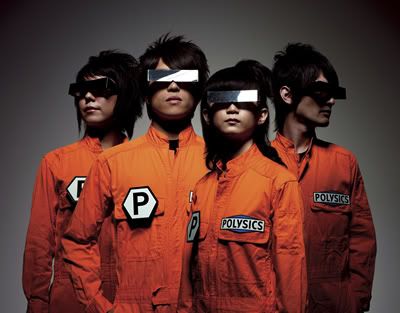 NEW YORK, February 13 –
On chilly Saturday night, I walked into a techno-rock explosion.
The Polysics
, a "technicolor pogo punk" band from Tokyo, played a one night engagement at the
Blender Theater (Irving Plaza)
.
The Polysics are primarily known for their distinctive
Devo
esque sound and innovative music videos. Their music is a mix of classic techno-pop with a hard edge punk guitar. Having been raised on British
New Wave
, I was quiet partial to their synth-pop sensibilities.
I also enjoyed the geeky punk flavor of their stage show.
Hiroyuki Hayashi
, the lead vocalist, was very animated and charismatic. He was bouncing off the walls like bunny on speed and performed some comedically awkward hip thrusting. In several instances, Hayashi had the entire audience mimic some of his bizarre hand gestures and motions. The crowd loved the interaction.
At one point in the performance, Hayashi proclaimed that "Polysics will be your Valentine!"
The highlights of their performance were
"Rocket"
,
"I My Me Mine"
, and
"Electric Surfing Go Go"
.
The band played to a bizarre mix of fans. In the audience, there were hard core techno fans wearing Devo hats rocking out next to Japanese Goth kids. It was a pretty lively crowd.
Related Links: