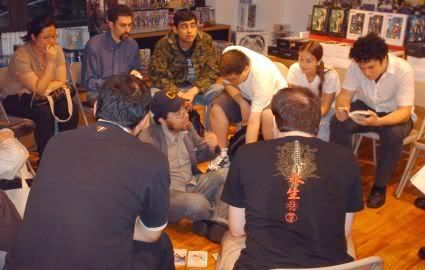 NEW YORK, July 29 –
I attended another installment of a discussion series hosted by
Ed Chavez
, Marketing Director for
Vertical, Inc
. The event was being held at
Kinokuniya
(1073 Avenue of the Americas). (
See a prior post about the Vertical Vednesdays series.
)
The topic of discussion was the humble Japanese
light novel
. Light novels are essentially novellas written for the young adult market in Japan. Some of the more successful titles in this genre are
The Melancholy of Haruhi Suzumiya (涼宮ハルヒの憂鬱)
,
Vampire Hunter D (吸血鬼ハンターD)
, and
Scrapped Princess (スクラップド・プリンセス)
.
The group talked about many aspects of the light novel, but the main focus of the discussion was centered on the difficulty of marketing them to an American audiences.
The real problem is the lack of an existing American market for the light novel. Perhaps the only comparative literary market to the light novel in America is the
pulp fiction
boom between the 1920s until 1950s. The dime store novel. However, since the collapse of the pulp industry, there has never been a resurgence of the pulp format.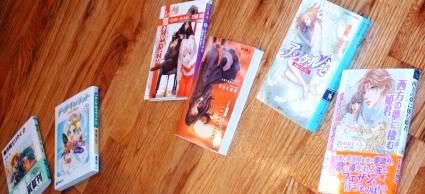 In the case of the Japanese light novel, publishers need to build a market from the ground floor. This can prove to be herculean task.
One of the major obstacles is penetrating the American fiction market. The majority of light novels are localized and marketed by manga companies, and many retailers tend to shelve them with manga titles instead of the prose fiction. This can prevent market growth due to the lack of exposure with non-manga readers. Some publishers understand this reality and try to avoid any marketing connections between some light novels and their manga ties.
It will be interesting to follow the development of this market in the next few years.
Related Links: