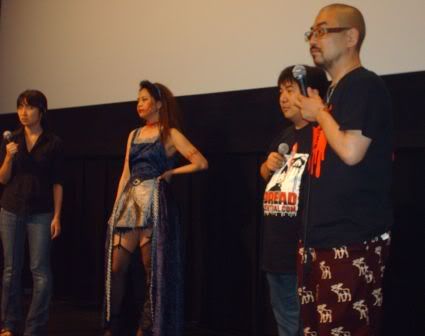 NEW YORK, June 29 –
I attended the second showing of
Vampire Girl Versus Frankenstein Girl (吸血少女対少女フランケン)
at the
IFC Center (323 Sixth Avenue)
. It was being screened as a part of
the New York Asian Film Festival 2009
.
Based on a manga by
Shungiku Uchida (内田春菊)
, the film is centered on two supernatural high school girls. One is a vampire; the other one is a Frankenstein monster. Both engage in deadly battle for the affections of a single boy. Every scene is filled with lowbrow humor and gallons of fake blood.
The movie is hilarious, but the funniest scenes are ones involving the school clubs. Each club is based on a real Japanese teen trend such as
wrist cutting
,
ganguro (ガングロ)
, and
goth-loli (ロリータ・ファッション)
girls. It takes each trend to the most ridiculous extreme for great comedic effect.
I especially found the high school wrist cutting competition to be very funny.
The film is the brain child of two Japanese directors,
Yoshihiro Nishimura (西村喜廣)
and
Noboru Iguchi (井口昇)
. They were at the screening to promote their movie in the United States. Their introduction was more of a two man stand-up comedy routine than a movie introduction. They had a great sense of humor and entertained the audience before the film. Nishimura called their film a "splatter high school comedy".
After the film, they stayed for a "question and answer" session. Nishimura also did some make-up work during the film and displayed a female model sporting the Frankenstein make-up.
Vampire Girl Versus Frankenstein Girl is probably my favorite film from the entire festival. I had a blast! If you have a twisted sense of humor and an appetite for low-budget gore, you should definitely see this movie.
Related Links: