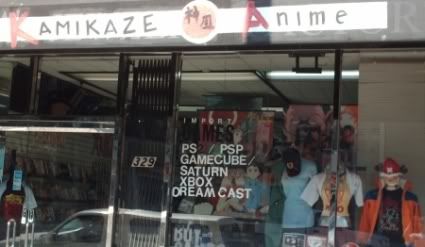 Kamikaze Anime, Storefront
LOS ANGELES, September 17 –
I went looking for anime and manga during my trip to Los Angeles. I started with the most obvious location,
Little Tokyo
. I was puzzled by the lack of video and book stores in the area. My friend said that the area was hit pretty hard by the poor economy. The number of Japanese specialty stores was shrinking. Some stores moved away, and other stores completely disappeared. In addition, many second and third generation Japanese Americans were moving away. The Japanese Californian population is very scattered.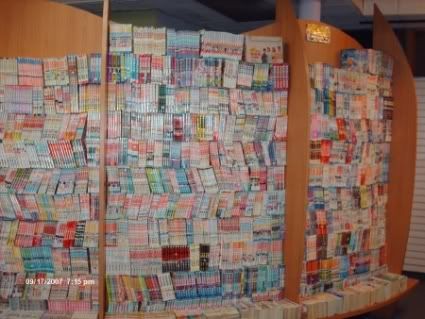 Wall of Manga, Kamikaze Anime
I did manage to find one anime/manga store. It was called Kamikaze Anime. It sold mostly imported manga, region 2 DVDs, J-Pop, and anime merchandise. The store had an impressive wall of manga displayed in the back. It was pretty cool. They also sold Japanese school uniforms. The uniforms were a little big for Japanese school children, but they were perfect for American cosplaying otaku.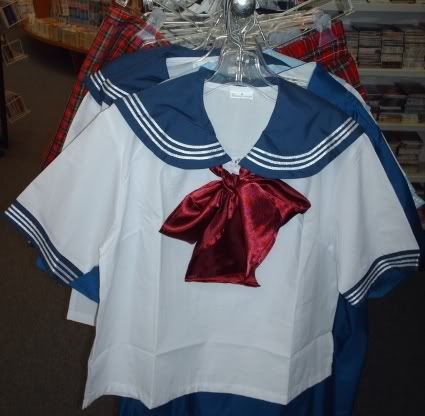 Ready to Wear Cosplay, Kamikaze Anime
Even the Japanese malls were pretty bare and depressing with closed stores and unlit windows. The place felt neglected. The only anime related store in the mall was a
Sanrio store
. I'm not a big fan of
Hello Kitty
, but I had to check out the Hello Kitty garbage cans. There is a huge Sanrio store in New York that I have never visited. Yet, I feel strangely compelled to go to the one in Los Angeles. Creepy…
Sanrio Store, Little Tokyo Mall
I think Sanrio stores are like cockroaches. They will survive anything… bad economies, earthquakes, hurricanes, floods, and even Global Thermonuclear War! Joshua…
Shall we play a game?