Patti Smith
NEW YORK, February 26 —
On a chilly winter night, I attended the
20th Annual Tibet House Benefit Concert
at
Carnegie Hall
(West 57th Street and 7th Avenues). The concert supports
Tibet House's
on-going efforts to preserve the living culture of Tibet. Also a portion of the proceeds benefit
The Tibetan Community of New York and New Jersey
and
Doctors without Borders (Médecins Sans Frontières)
.
This year's concert was packed with tons of great punk acts. The audience seemed electrified as they rushed the stage several times. They were promptly restrained by the Carnegie Hall security detail. It's was one of the livelier benefit concerts in recent memory.
The performers included:
Philip Glass
,
Bajah + The Dry Eye Crew
,
Gogol Bordello
,
Tenzin Kunsel
,
Iggy Pop
,
Patti Smith
,
Regina Spektor
, Jesse Smith, Michael Campbell,
Drepung Gomang Monks
, and others.
Philip Glass
The concert started with very somber openers. The Drepung Gomang Monks began with their traditional throaty chant. They were followed by a minimalist musical segment by Philip Glass and a passionate set of soft jazzy folk music by Regina Spektor. The only exception to the subdued tone was the colorful Reggae style beats performed by Bajah + the Dry Eye Crew.
In a sudden change of pace, the atmosphere suddenly exploded when Gogol Bordello took the stage. Eugene Hütz, the lead singer of the band, performed an acoustic set of three Gypsy inspired punk tunes that excited the crowd. Younger audience members rushed the stage blissfully unaware of Carnegie Hall's reserved decorum. The venue's staffer and security detail quickly held them back.
Gogol Bordello was soon followed by the amazing Patti Smith. Smith started her set with the R&B classic
"Love Train"
. The increased volume of her performance resulted in a lot of unintended audio feedback. She was visibly annoyed with the audio problems but powered through her set. During Smith's set, the audience again rushed the stage to the dismay of the venue's security personnel. She finished her set with a powerful rendition of
"Gloria"
. The audio feedback problems resurfaced in her final song, and she tossed the microphone stand across the stage. Smith sang the rest of the song with microphone in hand.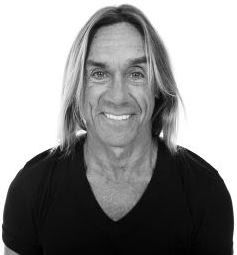 Iggy Pop
The closer was the legendary Iggy Pop. Pop walked onto the stage with a black long sleeved shirt which he promptly discarded. He began his set with
"The Passenger"
. The audience went wild, and the crowd in front of the stage grew. The security could barely keep order. At the start of
"I Wanna Be Your Dog"
, Pop even jumped into the audience in an attempt to crowd surf. According to
Rolling Stone Magazine
, "nobody caught him."
During his set, Pop also had the same feedback problem that Smith experienced. Frustrated he stuffed the microphone in his jeans. Then he proceeded to pick up the microphone stand and repeatedly hammered the pristine hardwood floors of the Carnegie Hall stage. You could see the worried expression on some of the Carnegie Hall staffers.
Related Links: