NEW YORK, March 21 —
The Pillows
EFF-ING rocked. They were just eff-ing metal. The Pillows, a hit Japanese rock band, played to a sold out crowd at the
Blender Theater
(127 East 23rd Street).
Due to the popularity of the FLCL anime series, the Pillows have established a strong international fan base. The entire FLCL soundtrack is filled with many of their signature hits such as "Little Busters", "Monster", and "Ride on Shooting Star". It became an effective marketing vehicle for spreading their highly infectious sound.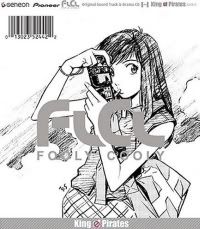 For tonight's show, they played a mix of old and new songs. Their new songs were awesome, but their FLCL songs were the biggest hit. When the Pillows played a FLCL song, the New York audience would explode, and they would start jumping to the music. I could feel the whole place shaking as the audience rocked out.
My favorite moments included their live renditions of "Little Busters", "Come Down", and "Crazy Sunshine".
If you ever get the chance to see the Pillows in concert, you must see them. It was the best j-rock show that I've seen in a few years. I, Dessler, command you.
Related Links: