Warhol Soup
NEW YORK, November 5
– I originally walked into the
Nightingale Lounge
expecting to see
Alfa
with an acoustic guitar singing her tunes. Instead I unexpectedly entered a Filipino literary benefit called
The 6th Annual READ Philippines
. It's an organization promoting Filipino writers in schools, libraries, and other public venues.
The event featured performances by:
John-Flor Sisante
,
M. Josephine
,
Bonnibel Fonbuena
,
Warhol Soup
, and
Alfa Garcia
.
Sisante started off the night with some acoustic ukulele songs. What is the whole Filipino ukulele connection? I know three Filipino acts that use the ukulele. Maybe it's a Pacific Islander thing. Sisante did an interesting political tune called, "Lovesong of a Palin Presidency". He started stomping and motivated the crowd to clap.
He was followed by M. Josephine, an R&B vocalist from Jersey City. She performed a few songs over a pre-recorded music track. Her husband joined her for a Hip-Hop/R&B duet.
An interesting addition to the line-up was Fonbuena, a Texas Filipino spoken word artist. She was off the wall fun. She did really interesting pieces about life, her nephew, and robots. Fonbuena proclaimed, "kill all robots!" She also did a humorous piece about her feelings of pride over
Manny Pacquiao's
boxing career. I thought she was going to call him the real, "Thrilla in Manilla". She didn't. Fonbuena was so hippy and chill. I absolutely loved her stuff.
Warhol Soup, a New Jersey Filipino funk band, took the stage with some very funky songs. They even managed to do a cover of
Michael Jackson's
"Man in the Mirror"
. I also enjoyed the funky madness of "Adobe Funk" and "Felicia".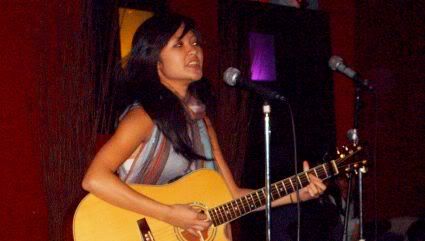 Alfa
The night ended with Alfa as the headliner. She stated that the headliner role was a surprise and the pressure was on. She performed amazingly as the evening's closer. The highlights of her performance were "Love as Tragedy" and "Second Skin". I think that she is one of the most exciting young voices in the New York indie music scene today.
Overall, the benefit was an interesting accident. I enjoyed all the performances by the local Filipino music community.
Related Links: