09 JUNE 2007
-- I'm back from my funky adventures below the Mason-Dixon Line. I've returned to a humid and sticky New York City.
---
OTAKU USA! The first issue arrives on store shelves!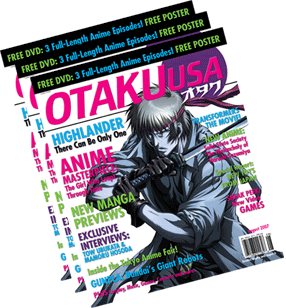 OTAKU USA
is the first real American J-Trash magazine with some red meat. The articles are interesting and well written. The reviews and features are comprehensive and engaging. It contains: anime reviews, manga previews, Gundam Model kit previews, j-pop news, movie news, Tokusatsu info, interviews, and Kaiju movie updates. It is edited by Patrick Macias.
I've read this magazine cover-to-cover. It's been a long time since I've done that... Get youself a copy immediately.
OTAKU USA Magazine is available at these stores:
Barnes and Nobles, Borders, Books A Million, Hastings, Walden, Loblaws, Target, and other magazine retailers.
---
ANIME: Papurika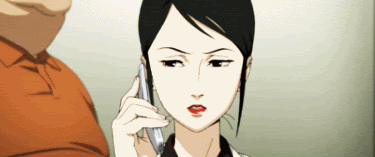 I finally viewed
Satoshi Kon's
(
Paranoia Agent
and
Tokyo Godfathers
) latest movie,
Paprika (a.k.a. Papurika)
on the big screen, and it was quiet trippy. It was very reminiscent of his work on the last few episodes of Paranoia Agent. The most memorable scenes consist of dreamy sequences that rapidly turn into a dark imploding world.
The general plot involves a medical corporation that develops a dream machine that allows therapists to delve into the patients' subconscious. This new ability leads to problems when a fiendish criminal tries to steals dreams from patients and manipulates their minds with the machine. Paprika, a mysterious dream heroine, must stop the criminal from completely overtaking the dreams of everyone involved in the project.
The film does include many element of Wachowskis'
The Matrix
, and there are other references such as
Journey to the West
,
Tokyo Godfathers
,
Roman Holiday
, and
Tarzan the Ape Man
.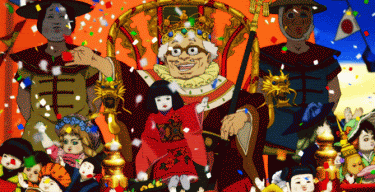 Paprika is a gorgeous and visually enticing movie. It has a bright palette of colors and characters that will keep audiences interested in every cell of animation. It was almost hypnotic.
Masashi Ando's
(Paranoia Agent) character designs are very intricate, and the animation is surprisingly fluid.
I am a huge fan of Satoshi-san work. As with
Paranoia Agent
and
Millennium Actress
, he creates the same sense of intensity in this film. His movies have a distinctive pacing and rewarding climaxes. Satoshi-san did not disappoint his fans with this amazing film. A must see anime!
You can watch
Papurika
trailer on
YouTube
.
--
James Leung Man-Fai